---
The US Federal Energy Regulatory Commission (FERC) has issued the notice of schedule for environmental review (SER) to Texas LNG Brownsville LLC setting the anticipated dates for issuance of its final environmental impact statement (FEIS) and federal authorisation decision deadline (FADD) for Texas LNG's proposed two train, 4 million tpy LNG export facility located in the Port of Brownsville, Texas.
The FEIS and FADD deadline are the final major steps in the FERC process before issuance of the FERC order. Based on the FEIS date and timelines of other approved LNG export projects, Texas LNG expects to receive its final FERC order authorising construction and operation of its facility in 2H 2019, in accordance with previously announced recent estimates.
The SER is an important milestone as it communicates FERC's high confidence schedule for Texas LNG's completion of the national environmental policy act process, and for all agencies involved in federal permitting approval to complete their review. As per FERC's expected timeline, Texas LNG will receive its Draft Environmental Impact Statement (DEIS) in October 2018, and FEIS by 15 March 2019. Other agencies issuing federal authorisations have 90 days to complete all necessary reviews and to reach a final decision on the request for a federal authorisation. The FADD is 13 June 2019.
Vivek Chandra, Founder & CEO of Texas LNG said, "We are pleased to receive this very important notice and would like to thank the FERC and all the supporting agencies, including the US Department of Energy, US Coast Guard, US Department of Transportation, US Army Corps of Engineers, US Environmental Protection Agency, US Fish and Wildlife Service, National Park Service, National Marine Fisheries Service, and Federal Aviation Administration, that have been involved in the process. We are confident the Texas LNG project will provide benefits for all our stakeholders, especially the Brownsville community, and look forward to progressing toward Final Investment Decision (FID) for the first 2 [million tpy] train in 2019, and construction beginning soon thereafter."
Langtry Meyer, Founder & COO of Texas LNG stated, "FERC's schedule provides clarity to Texas LNG stakeholders including LNG buyers and investors that Texas LNG will receive its final FERC approval and is on track to achieving Final Investment Decision in 2019. We are particularly proud that we have reached this milestone by diligently deploying our resources cost effectively thereby providing superior value to our investors."
Read the article online at: https://www.lngindustry.com/liquid-natural-gas/03092018/texas-lng-receives-ferc-timeline/
You might also like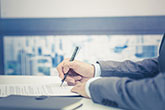 In its efforts to further boost natural gas utilisation in the country and enhance Nigeria's gas revenue, NNPC Ltd has signed two major agreements to deliver LNG to the domestic gas market and the international LNG market.