---
Mark Roberts, Jeremy Beard, Chris Ott and William A. Kennington, Air Products and Chemicals, Inc., USA, look at advancements in LNG mega-train process technology.
It has been over 10 years since the six 7.8 million tpy large capacity liquefaction trains in Qatar were commissioned.1 These projects represented a step change in single train liquefaction capacity from the prior maximum of 5 million tpy, and took advantage of economies of scale to lower unit production costs. This capacity increase was enabled by the new AP-X® LNG process technology, as well as new developments in turbomachinery and other equipment.
Recently, there has been renewed interest in large capacity trains and their potential unit cost reduction. Since the development of the original AP-X trains, however, there have been significant advancements in gas turbines, compression, coil wound heat exchangers (CWHEs) and other technologies. These advancements in LNG process technology enable new equipment arrangements for AP-X, AP-DMR™ and AP-C3MR™ technologies that offer benefits in liquefaction train availability, equipment count and operating cost.
Key process technology advancements
Larger capacity CWHEs
CWHE sizes have grown to meet market demands over the years for larger and larger LNG train sizes. Since the first CWHEs were delivered in the late 1960s, diameters have increased by 40%, volumes have tripled and weights have quadrupled. To keep up with projected market needs for even larger train sizes, continued growth in exchanger size is imperative. This required Air Products to build a new CWHE manufacturing facility with manufacturing equipment and infrastructure to handle larger and heavier CWHEs. In addition to this, it was strategically located immediately adjacent to a deepwater port in Manatee County, Florida, US, with accommodations to ship CWHEs by either a barge or a geared heavy lift vessel. Air Products' Port Manatee manufacturing facility began production in 2014, shipped its first CWHE in 2016, and has shipped several more since then, and one of those CWHEs has been in successful operation for over two years. This new facility allows fabrication and shipment of CWHEs up to 6 m in diameter and 60 m in length.2
HAOURAI, A., 'Successful Start Up of QG Mega LNG Trains', 20th World Petroleum Congress, Doha, (2011).
SZATKOWSKI, A. and BUTLER, C., 'Coiled and Ready for Higher Capacity', LNG Industry, (April 2017), pp. 35 – 40.
This is an abridged version of an article that was originally published in the March 2020 issue of LNG Industry. The full version can be read here.
Read the article online at: https://www.lngindustry.com/liquid-natural-gas/03032020/all-aboard-the-mega-train/
You might also like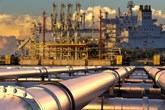 At every stage of the LNG process – from pretreatment to transportation – accurate and reliable measurements are essential for optimising production, maintaining safety, and ensuring profitability.