---
GasLog Ltd. and its subsidiaries have released financial results for the quarter ended 30 September 2017.
Highlights:
Completed the dropdown of the GasLog Geneva to GasLog Partners LP for US$211.0 million on July 3, 2017.
Announced and, post the quarter end, closed the dropdown of the Solaris to GasLog Partners for US$185.9 million.
Completion by Gastrade S.A. of the Front-End Engineering and Design (FEED) study for the Alexandroupolis FSRU project in Greece. DEPA, the government controlled natural gas company of Greece, has announced that it intends to acquire a shareholding interest in Gastrade.
Continued success of the GasLog Partners' At-The-Market Common Equity Offering Programme (ATM Programme) with net proceeds of US$43.9 million raised during the quarter and total net proceeds of US$55.7 million raised since inception of the programme.
Appointment of Richard Sadler in the position of Chief Operating Officer (COO) with effect from 20 September 2017.
Revenues of US$131.2 million (Q3 2016: US$120.7 million), Profit of US$24.2 million (Q3 2016: US$16.4 million loss) and Earnings per share of US$0.03 (Q3 2016: loss per share of US$0.39), for the quarter ended 30 September 2017.
EBITDA of US$89.6 million (Q3 2016: US$80.8 million), Adjusted EBITDA of US$89.7 million (Q3 2016: US$81.1 million), Adjusted Profit of US$21.1 million (Q3 2016: US$19.5 million) and Adjusted Loss per share of US$0.00 (Q3 2016: Adjusted Earnings per share of US$0.05) for the quarter ended 30 September 2017.
Quarterly dividend of US$0.14 per common share payable on 22 November 2017.
Paul Wogan, Chief Executive Officer, stated:
"GasLog achieved record revenues and EBITDA in the quarter as a result of high uptime across our chartered fleet and a gradual improvement in the earnings on our spot vessels.
During the quarter, we completed the sale of the GasLog Geneva to GasLog Partners and we announced the dropdown of the Solaris, the third dropdown this year. Post the quarter end, we closed the dropdown of the Solaris. These transactions demonstrate our continued ability to recycle liquidity from the Partnership to GasLog, which we can then use to grow our LNG carrier and FSRU businesses.
We continue to make good progress on the Alexandroupolis LNG Terminal in Greece, where DEPA has signed a Cooperation Agreement for its participation in the project, which is being developed by Gastrade. The Agreement also includes next steps for DEPA to participate in the share capital of Gastrade.
In recent weeks, a number of positive data points suggest that LNG shipping market fundamentals are improving. The increase in LNG supply from both the US and Australia is creating greater shipping activity, as the additional supply is being matched by rising demand, particularly in Asia and Europe. In contrast to recent years, the 'shoulder months' of September and October have seen strong LNG demand and increasing prices in Japan, South Korea and China. We expect that the re-emergence of significant gas price differentials between the US, Europe and Asia will stimulate more inter-basin trade and will result in longer average voyage distances, which is positive for LNG shipping.
In the short-term LNG shipping market, spot rates have been consistently higher in 2017 than in 2016 as an increasing number of fixtures have led to higher utilisation, a return of round trip economics and an increase in customers looking for multi-month charters. We expect this trend to continue and strengthen as we enter the Northern Hemisphere winter.
With five vessels currently trading in the spot market through The Cool Pool Limited and with five newbuild vessels scheduled to be delivered in 2018 and 2019, GasLog has the potential to achieve growth in revenues and EBITDA as a result of organic growth and the improving market environment."
Read the article online at: https://www.lngindustry.com/liquid-natural-gas/02112017/gaslog-ltd-reports-third-quarter-financial-results/
You might also like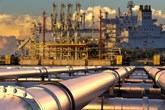 At every stage of the LNG process – from pretreatment to transportation – accurate and reliable measurements are essential for optimising production, maintaining safety, and ensuring profitability.