---
GasLog Ltd. and its subsidiaries have reported financial results for the three-month period ended 30 June 2019.
Highlights
Delivery of the GasLog Warsaw on 31 July 2019, a 180 000 m3 Mark III Flex Plus carrier with low pressure dual fuel two-stroke (X-DF) propulsion. The vessel was immediately delivered into a new charter with a wholly-owned subsidiary of Cheniere Energy Inc. for the period prior to the commencement of her long-term charter with a subsidiary of Endesa S.A. in May 2021.
Closed a follow-on issue of US$75.0 million aggregate principal value of the 8.875% senior unsecured notes due 2022, priced at 102.5% of par with a yield to maturity of 7.89%.
Exited the Cool Pool to assume commercial control of the vessels operating in the LNG carrier spot market and subsequently signed two time charter agreements with a subsidiary of Gunvor Group Ltd. for the GasLog Shanghai and the GasLog Salem for three and a half years and up to nine months, respectively.
Amended the Partnership Agreement to eliminate GasLog's incentive distribution rights (IDRs), effective 30 June 2019, in order to reduce the cost of capital of GasLog Partners LP and to simplify the Group's financial structure and reporting.
Completed the sale of the GasLog Glasgow to GasLog Partners for US$214.0 million, with attached multi-year charter to a subsidiary of Royal Dutch Shell plc.
Revenues of US$154.3 million, Loss of (US$10.5) million and Loss per share of (US$0.35) for the three-month period ended 30 June 2019 (US$132.8 million, US$14.2 million and (US$0.08), respectively, for the three-month period ended 30 June 2018).
EBITDA of US$106.8 million, adjusted EBITDA of US$107.0 million, adjusted profit of US$20.5 million and adjusted earnings per share of US$0.03 for the three-month period ended 30 June 2019 (US$92.6 million, US$92.9 million, US$14.8 million and (US$0.07), respectively, for the three-month period ended 30 June 2018).
Quarterly dividend of US$0.15 per common share payable on 22 August 2019.
CEO statement
Paul Wogan, Chief Executive Officer, stated: "GasLog's revenues from our year-on-year fleet expansion and our time charter earnings supported our financial performance against a back drop of relatively weak LNG shipping rates in the second quarter, further validating our strategy of maximising our fleet's multi-year charter coverage. We continued to execute on this strategy during the quarter by withdrawing our vessels from the Cool Pool, subsequently chartering the GasLog Shanghai and the GasLog Salem to Gunvor for three and a half years and up to nine months, respectively, securing full utilisation for these vessels.
During the second quarter, we continued to source attractive financing to fund our committed newbuild programme. We closed the financing of the GasLog Warsaw, which delivered earlier this week into a multi-month charter with Cheniere that covers the whole of the available period before the vessel commences her eight-year charter with Endesa, in May 2021. We also raised gross proceeds of US$76.9 million through tapping our existing US dollar bonds at a premium to par. Finally, we improved GasLog Partners' cost of capital by eliminating the incentive distribution rights. This increased our stake in the partnership and simplified both our corporate structure and the investment case for our investors.
We are seeing increasing customer interest in multi-month and multi-year charters, underpinning the long-term growth prospects for LNG and supporting our view that the second quarter weakness in LNG shipping markets is temporary. We expect shipping availability to tighten during the second half of 2019 and beyond based on new LNG supply additions, predominantly from the US and almost all of which is secured by long-term off-take contracts, and continued global growth in LNG demand. This underpins our confidence in the outlook for our business and our ambition to deliver enhanced returns to shareholders."
Read the article online at: https://www.lngindustry.com/liquid-natural-gas/02082019/gaslog-reports-results-for-2q19/
You might also like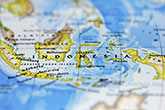 President Joko Widodo has officially inaugurated Tangguh Train 3 in Indonesia.