---
Nikkiso Clean Energy and Industrial Gases (Nikkiso CEIG) is the latest company to join SEA-LNG – a coalition established to demonstrate the commercial and environmental benefits of LNG and the pathway it provides for maritime decarbonisation. Nikkiso supplies equipment, technologies, and engineering services to support the safe operation of LNG as a marine fuel.
SEA-LNG membership will open up networking and collaboration opportunities for Nikkiso to support its work on cryogenic pumps and process systems, as well as broader cryogenic services. The group also works on heat exchanger systems and Nikkiso Turboexpander systems, and has experience in boil-off gas management for LNG-fuelled vessels, methane slip mitigation, and integrated LNG fuel gas supply systems.
Peter Keller, Chairman of SEA-LNG, commented: "To achieve its critical decarbonisation targets, shipping will require a basket of fuels and technology options. Collaboration across the entire LNG value chain, with companies like Nikkiso, ensures that LNG will have a place as a key part of that basket. As an important marine fuel, LNG can deliver on decarbonisation now with immediate greenhouse gas emissions reductions and that provides a low risk, incremental pathway for decarbonisation through bio-LNG and renewable synthetic e-LNG."
Peter Wagner, CEO, Nikkiso CEIG Group, said: "Nikkiso Group aims to encourage the shipping industry to swiftly adopt LNG as a marine fuel, because it provides a readily and immediately available low carbon clean energy, using proven technology and state-of-the-art engineering. The fuel also has the physical properties to facilitate a more efficient ship construction integration compared to alternative fuels. This enables the maritime industry to lower emissions by a further 20% on the basis of clean energy and efficient ship designs. We look forward to being part of SEA-LNG to further this work."
Steve Esau, Chief Operating Officer of SEA-LNG, concluded: "Carbon-neutral fuel solutions will not arrive in a big-bang process, instead we will see the incremental decarbonisation of existing assets as fuel production, transportation, storage and bunkering infrastructure and engine technologies develop. We are excited to welcome another new member whose innovative technology and engineering expertise supports the cost-effective operation of LNG as a marine fuel today. As a fuel in transition, Nikkiso technology will also support the net zero-emissions of bio-LNG today and e-LNG tomorrow."
Methane emissions regulation has an important role to play in in shipping's de-carbonisation. As an LNG technology provider Nikkiso, with its peers, is continuously improving methane emission control and abatement. In the long-term, bio-LNG and renewable synthetic e-LNG are suitable next steps for LNG, as they are both compatible with onboard infrastructure. SEA-LNG and Nikkiso reiterate that the global shipping industry needs all viable alternatives to oil-based fuels now – waiting is not an option.
Read the article online at: https://www.lngindustry.com/liquid-natural-gas/02062023/nikkiso-joins-sea-lng/
You might also like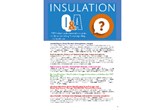 LNG Industry asked several companies to discuss some key factors regarding LNG insulation in our recent November 2023 issue of the magazine.