---
Cheniere has reported its 1Q20 results and reconfirmed its full year 2020 guidance.
Recent highlights
Strategic

In April 2020, Midship Pipeline Company, LLC, in which Cheniere has an equity investment, placed into service the Midship natural gas pipeline and related compression and interconnect facilities
Operational

As of 27 April 2020, more than 1100 cumulative LNG cargoes totalling over 75 million t of LNG have been produced, loaded and exported from Cheniere liquefaction projects.
Financial

For the three months ended 31 March 2020, Cheniere reported net income of US$375 million, Consolidated Adjusted EBITDA of US$1.04 billion, and Distributable Cash Flow of approximately US$250 million.
During the three months ended 31 March 2020, Cheniere repurchased an aggregate of 2.9 million shares of its common stock for US$155 million under its share repurchase program.
In March 2020, Sabine Pass Liquefaction, LLC entered into a US$1.2 billion Working Capital Revolving Credit and Letter of Credit Reimbursement Agreement, which refinanced its previous working capital facility, reduced the interest rate, and extended the maturity date to March 2025.
In February 2020, the amended and restated note purchase agreement for the 2025 CCH HoldCo II Convertible Senior Notes was amended to allow Cheniere CCH HoldCo II, LLC the option to redeem all or a portion of the outstanding notes with cash at a price of US$1080 per US$1000 principal amount, at the time of any CCH HoldCo II or noteholder initiated conversion through 2 September 2020. In March 2020, CCH HoldCo II redeemed an aggregate outstanding principal amount of US$300 million with cash.
Liquefaction projects update
Sabine Pass LNG terminal (SPL) project

Through Cheniere Partners, Cheniere operates five natural gas liquefaction trains at the SPL project and is constructing one additional train, in order to achieve a total production capacity of approximately 30 million tpy.
Corpus Christi LNG (CCL) project

CCL is a two train project and Cheniere is currently constructing one additional train, in order to bring its total production capacity up to approximately 15 million tpy of LNG.
Corpus Christi Stage 3

Cheniere is developing an expansion adjacent to the CCL project for up to seven mid scale trains with an expected total production capacity of approximately 10 million tpy of LNG. The company expects to commence construction of the Corpus Christi Stage 3 project upon, among other things, entering into an engineering, procurement, and construction (EPC) contract and additional commercial agreements, as well as obtaining adequate financing.
CEO comments
"The first quarter of 2020 was defined by unprecedented circumstances, and our focus at Cheniere has been to protect the health and safety of our workforce, ensure continuity of construction and operations to deliver on our obligations to our customers, and to support the communities where we live and work with assistance needed to provide critical services," said Jack Fusco, Cheniere's President and CEO. "I am immensely proud of the Cheniere team for their united response to these challenges.
"Those efforts contributed to our ability to deliver strong financial results for the first quarter. We have built a strong and resilient business, one capable of withstanding volatility in both energy and financial markets, and that enables us today to reconfirm our full year 2020 guidance of Consolidated Adjusted EBITDA of US$3.8 to US$4.1 billion, and Distributable Cash Flow of US$1.0 to US$1.3 billion."
Read the article online at: https://www.lngindustry.com/liquid-natural-gas/01052020/cheniere-releases-its-1q20-results/
You might also like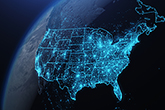 A Seapath and Pilot LNG joint venture will develop, construct, and operate a terminal in the Galveston Bay area supporting LNG-powered vessels.