Crowley loads first LNG into ISO tank container at Eagle LNG partners' new plant
Published by Joseph Green, Editor
LNG Industry,
---
Crowley Maritime Corporation's LNG group has successfully executed the first loading of nearly 11 000 gallons of LNG into an ISO tank container at the new Eagle LNG Partners liquefaction facility located near Jacksonville, Fla.
Crowley loaded LNG into the ISO container and delivered it over the road to the Port of Jacksonville for ocean transport to support customers in Puerto Rico. With the addition of the new plant, Crowley and Eagle LNG have expanded the supply and availability of LNG services to customers in the US, Caribbean and Latin America.
"With the successful LNG tank container loading at the Eagle LNG Partners' Maxville Facility, Crowley can offer even more flexible services and sourcing locations to supply customers with LNG as a cleaner, safer fuel source. The new plant location means LNG can be easily produced and transported to the port all within the Jacksonville area," said Crowley's Matt Jackson, vice president, LNG. "Not only will Crowley and Eagle LNG Partners provide a fuel source that decreases environmental impacts, Crowley can provide supply chain and engineering solutions that are resilient alternatives to traditional energy sources in Puerto Rico and other markets."
The plant, which is in the Maxville area of west Jacksonville, has the capacity to produce up to 200,000 gallons per day of LNG, which offers lower emissions than other fuels and has diverse industrial and commercial capabilities. The Maxville LNG Facility has a 1 million gallon storage tank and a modern system to load fuel into ISO containers for truck delivery to the port quickly.
"We are very pleased that the first commercial load of LNG from the new Maxville LNG Facility is destined for Puerto Rico via ISO container. This LNG plant is the embodiment of Crowley and Eagle LNG's commitment to the community in the North Florida region and Puerto Rico. Having the first commercial load sold to Crowley for routing through the Port of Jacksonville to Puerto Rico is only appropriate," said Sean Lalani, president of Eagle LNG Partners. "The new Maxville LNG Facility is the first LNG plant to be operational in Jacksonville and features numerous design enhancements to allow us to send out LNG to the Port of Jacksonville and throughout the region safely and efficiently. LNG continues to become the fuel of today and Jacksonville is the epicentre of this transition."
After receiving the LNG, the ISO containers are transported by truck and loaded onto vessels in Jacksonville. Crowley then provides ocean transportation and delivers the LNG to various customers in Puerto Rico and other locations in the Caribbean. To date, Crowley has successfully transported more than 6.5 million gallons of LNG as well as provided engineering and other services for pharmaceutical and other companies.
LNG from Eagle LNG's new plant also will power Crowley's two new Commitment Class, combination container/roll-on roll-off "ConRo" ships for the U.S. mainland to Puerto Rico trade. The use of LNG in the ships El Coquí and Taíno will result in a significant reduction of emissions as compared to existing fossil fuels.
To support fuelling the ships, Eagle LNG Partners and Crowley have constructed a dockside LNG fuel depot on Crowley-leased property at the JAXPORT Talleyrand Marine Terminal on the St. Johns River. The marine terminal, which uses cutting-edge technology, was engineered to feature a compact footprint specifically for ship bunkering operations. Crowley's LNG engineering team has partnered with Eagle LNG for the successful completion of the port fuel depot.
Read the article online at: https://www.lngindustry.com/liquefaction/29032018/crowley-loads-first-lng-into-iso-tank-container-at-eagle-lng-partners-new-plant/
You might also like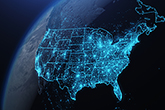 A Seapath and Pilot LNG joint venture will develop, construct, and operate a terminal in the Galveston Bay area supporting LNG-powered vessels.