Liquefaction - 28 April 2017
The US Department of Energy has signed an order authorising Golden Pass Products to export domestically produced LNG.
In its JKC Community Bulletin, INPEX has announced that it has awarded the first commissioning subcontract for the Ichthys Project Onshore LNG Facilities.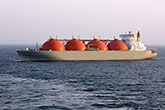 US is set to ship its first shale gas to a member of the former Soviet bloc.