---
Part one of this article can be read here.
Bloomberg are reporting that the distribution of royalties from the project have already caused unrest in the Highlands. Residents threatened violence against gas plants and pipelines in late 2016, after they didn't receive payments. The government said the distributions were delayed because of a review of clan records and property rights to make sure the money went to the right people. The first 15 million kina in royalties was paid to villagers in late 2017, according to Exxon and Port Morseby-based The National newspaper.
Papua New Guinea has been through similar challenges before. Three decades ago, disputes over royalties from one of the world's largest copper mines helped fuel an independence movement on Bougainville Island. The autonomous region is planning an independence referendum next year.
During the original negotiations, Papua New Guinea recognised that it needed to sweeten the deal with Exxon by allowing for things like tax breaks on infrastructure spending, according to Koim, of the Gas Project Coordinating Office, and Fabian Pok, the nation's energy minster.
"Some incentives were given" during the original negotiations, Pok said. "These incentives may not be available" in talks over the expansion, he said.
The success of the initial project lowers the risk associated with future investments, which may give Papua New Guinea more leverage in negotiations, said Andrew Harwood, a research director with energy consultancy Wood Mackenzie Ltd. in Singapore.
"The government is entitled to seek a larger share of any expansion, but needs to balance potential higher government revenues against the risk of deterring future investment," Harwood said.
One way to increase government revenue would be for state oil company Kumul to take a bigger stake in the expansion. Koim suggested a 30% share, compared with 16.8 in the initial project. (The state also has a 2% interest through its Mineral Resources Development Co.) Other government officials want drillers to sell a portion of their gas domestically to fuel power plants and spur industrial development.
"Everything is on the table for negotiations," said Pok, the energy minister. At the same time, he said, the government realises that Papua New Guinea isn't the only country courting LNG investments, with competition coming from places like Qatar, Mozambique and the US.
"We need to remember that Exxon and Total are companies operating worldwide," Pok said in a telephone interview. "They've come into PNG and built confidence in our oil and gas industry, and their investment is welcome. We will come to an agreement, but we need all the parties together and talking and focused on getting the best outcome."
Read the article online at: https://www.lngindustry.com/liquefaction/24052018/pacific-island-nation-battles-oil-giant-for-lng-profits-part-two/
You might also like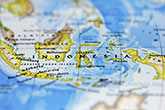 President Joko Widodo has officially inaugurated Tangguh Train 3 in Indonesia.