---
Reuters are reporting that the world's largest oil companies are pumping more natural gas than ever before, helping to spur a rise in profits while sating rising global demand for fuels that can mitigate global greenhouse gas emissions.
This marks a shift over the past decade for an industry that once focused predominantly on crude oil, with gas in most cases an after-thought. Now, the rise of gas-powered electric generation, surging production from US shale fields and the burgeoning LNG industry that makes shipping the fuel possible, have conspired to create a boom.
BP Plc, Exxon Mobil Corp, Royal Dutch Shell Plc, Total SA and Chevron Corp have collectively increased natural gas output 15% in the past decade thanks to better technology and lower costs, according to data from Wood Mackenzie energy consultancy.
Analysts expect all to post double-digit increases in second-quarter profit in coming days, according to Thomson Reuters I/B/E/S.
"LNG is the growth commodity for these companies," said Brian Youngberg, an energy industry analyst with Edward Jones, who expects the global LNG industry to grow at least 4% annually for the next five years.
At Total, gas is actually 61% of output, up from 47% as recently as 10 years ago, according to WoodMac.
Total is expected by analysts to post a 44% jump in second-quarter profit on Thursday to US$3.56 billion.
Even as gas production has risen, so too have reserves of natural gas. International energy companies saw gas reserves jump 16% last year to 35.33 billion ft3, according to a study by the EY consultancy.
"There are investments and capital expenditures being made to increase the level of gas reserves, and that should only continue," said Herb Listen, an EY energy analyst.
Exxon, for its part, sees natural gas usage growing at the fastest rate of any energy type out through 2040, reaching a quarter of global demand by that time.
"Worries about energy supplies have faded away, erased in large part by natural gas," Exxon Chief Executive Darren Woods told the World Gas Conference last month in Washington, D.C.
Exxon is expected by analysts to post a 62% increase in quarterly profit to $5.45 billion on 20 July.
Gas does have limitations. It's harder to transport than crude oil, which can be stored indefinitely in tanks, and it must be processed right away, boosting costs.
But greenhouse emissions from gas are far less than coal or oil when it is burned, boosting its appeal for a sector eager to combat allegations that it is the primary cause of anthropogenic climate change.
"I'm confident that natural gas will play a central role in meeting global energy needs for decades," Mike Wirth, Chevron's chief executive, said at the World Gas Conference.
Chevron, which operates two major LNG facilities in Australia, is expected by analysts to post quarterly profit of $4 billion on Friday, more than double year-ago levels, according to Thomson Reuters I/B/E/S.
Shell put natural gas at the heart of its long-term strategy with the US$53 billion acquisition of BG Group in 2016. The Anglo-Dutch company, already the world's largest LNG trader, is expected by analysts to post a 68% jump in quarterly profit to US$6.08 billion on Thursday, according to Thomson Reuters I/B/E/S.
London-based BP is going through the fastest growth era in its history with plans to boost production by around 900 000 barrels of oil equivalent by 2021. The company launched eight projects in 2017 and is set to launch seven more this year, most of which are related to gas.
Analysts expect BP to post a more-than fourfold jump in quarterly profit to US$2.66 billion on 31 July.
Read the article online at: https://www.lngindustry.com/liquefaction/23072018/energy-giants-opening-natural-gas-taps/
You might also like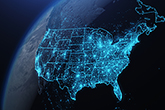 A Seapath and Pilot LNG joint venture will develop, construct, and operate a terminal in the Galveston Bay area supporting LNG-powered vessels.