---
The US Energy Information Administration (EIA) has released the following updated analysis on Iran's liquefied natural gas industry:
Although Iran's aspirations to build a liquefaction facility date back to the 1970s, the country has yet to build one. Despite ambitious plans, Iran has had to cancel or delay LNG projects because of US and EU sanctions that made it impossible to obtain financing and to purchase necessary technology. Given the political constraints, Iran's LNG projects are years away.
Proposed regional pipelines
Iran-Iraq Pipeline: Iraq signed an agreement with Iran in June 2013 to receive natural gas to fuel Iraqi power plants in Baghdad and Diyala. The initial contract covered 880 million ft3/d over 5 years, but this was later increased to 1.4 billion ft3/d over 10 years. The pipeline is under construction and it has experienced delays, some of which have been security-related issues including an attack on Iranian engineers. According to FGE, Iran's plans to export 176 million ft3/d of gas to Iraq have been postponed to 2015.
Iran-Oman Pipeline: Iran and Oman signed an MOU for Iran to supply 1 billion ft3/d of natural gas via pipeline to Oman over 25 years. According to IHS, the pipeline is expected to be completed in 2018-19. However, the project may be delayed because of pricing disagreements. According to FGE, Iran expects gas prices of US$ 11-14/MMBtu, while Oman is looking to pay US$ 6-7/MMBtu.
Iran-Pakistan Pipeline: Although the Iran-Pakistan Pipeline has experienced considerable financing difficulties, both countries seem committed to complete the project. In 2012, Pakistan completed tenders for engineering, procurement, construction, and commissioning, and Iran agreed to supply Pakistan with US$ 500 million to finance the line on the Pakistani side. The initial agreement called for the delivery of 750 million ft3/d of natural gas over 25 year, but this was later increased to roughly 1 billion ft3/d, according to Arab Oil and Gas Journal. Although contractor targets indicate pipeline completion in late 2014, industry sources do not expect the pipeline to be operational before 2018.
Iran-UAE Gas Contract: The Iran-UAE gas contract outlined an agreement to transport natural gas from the Salman field to Sharjah in UAE. Contract negotiations were not concluded because of a pricing and volume dispute, and the contract was referred to international arbitration.
Imports and exports
Iran trades marginal amounts of natural gas regionally via pipelines. In 2012, more than 90% of Iran's imports came from Turkmenistan and roughly 90% of Iran's exports went to Turkey.
Iran does not have the infrastructure in place to export or import LNG. The NIOC started construction projects in the past to build an LNG export plant, but most of the work has been halted, mainly because of the lack of technology and foreign investment, stemming from international sanctions.
To read the full Iran country analysis, please visit the EIA website.
Edited from source by Katie Woodward
Read the article online at: https://www.lngindustry.com/liquefaction/23072014/iran-yet-to-build-an-lng-import-facility-1055/
You might also like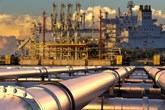 At every stage of the LNG process – from pretreatment to transportation – accurate and reliable measurements are essential for optimising production, maintaining safety, and ensuring profitability.