---
Bloomberg are reporting that Europe's LNG dry spell may end thanks to a surprising cold snap.
A wave of unusually cold weather is spreading across Europe, pushing up fuel prices just as demand for LNG in Asia ebbs as cool conditions there abate. Asia was beating Europe for LNG imports for months as China's unprecedented demand for the cleaner-burning fuel pushed prices in the region to a three-year high.
Qatar, Europe's biggest supplier of the super-chilled fuel, last sent a cargo to one of Britain's three LNG terminals in December. On 22 February, the Aamira vessel is due to deliver arrive in the U.K. with Qatar's next shipment just in time for the frosty weather.
Europe's prices may rise so far that it "could mean we start to receive LNG in March," said Wayne Bryan, a gas trader at London-based Alfa Energy Ltd.
Spot LNG, or fuel for immediate delivery, flows where the prices are highest. UK gas for March delivery gained about 11% over the past four days on ICE Futures Europe.
While the UK system should cope well with increased heating demand, any unexpected pipeline or storage outages could see prices jump. Market rates surged to a four-year high in December when flows from the Forties North Sea network were interrupted at the same time an explosion hit a key gas hub in Austria.
Additional demand from 21 February to 7 March "will drain gas storage inventories quickly, spurring speculation that low end of season reserves will drive scarcity pricing," John Twomey, an analyst at Bloomberg New Energy Finance, said in a research note.
However, the window for LNG may not last as the cold snap is seen ending in two weeks, about as long as it takes for a cargo to travel from Qatar to northwest Europe. Temperatures are seen rising back to normal for the time of year by 6 March, according to the Weather Co. And there has been no reduction in pipeline flows from Russia and Norway, the two biggest suppliers to the region.
The market isn't worried as February is often the coldest month of the winter and unless an unexpected event happens, the winter demand story is over, said Tor Martin Anfinnsen, senior vice president for marketing and trading at Statoil ASA, Norway's biggest gas producer. As spring and summer arrive, consumption and prices will soften as usual, deterring LNG from coming into Europe, he said. And supply will be boosted by Russia's new Yamal plant and later on from the second US Gulf Coast export plant, Cove Point.
Read the article online at: https://www.lngindustry.com/liquefaction/22022018/siberian-chill-revives-lng-trade-in-europe/
You might also like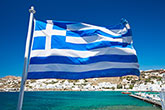 Bulgartransgaz EAD will analyse all opportunities to invest in a second LNG terminal in Greece, as announced at the 23rd World LNG Summit & Awards held in Athens.