---
Bloomberg is reporting that commodities, a big casualty of the escalating trade war between the US and China, are now set to be a major beneficiary of Beijing's pledge to import more American goods.
US President Donald Trump had threatened to impose tariffs on as much as US$150 billion in Chinese imports, including some steel and aluminium products, to punish Beijing for allegedly violating American intellectual property and unfair trade practices. The Asian nation vowed to retaliate with tariffs on everything from soybeans to fruit and wine.
But after two days of talks in Washington, the two countries on Saturday declared an economic truce, putting their tariffs plan on hold. In a joint statement released by the White House, China said it agreed to "meaningful increases in US agriculture and energy exports" with details to be worked out later.
Focus now swings to which US commodities could benefit as China buys more, and which countries stand to lose business in the world's biggest market for most raw materials.
LNG is a sector where China and the US can find common ground. The Asian nation is set to become the world's largest importer of LNG in the next decade, and several proposed US export projects are seeking long-term buyers to finance construction. Bloomberg New Energy Finance forecasts China's imports growing to 82 million tpy by 2030, but the country has long term contracts to supply just 42.5 million t by then, leaving plenty of space for new purchases.
Note: If you want to keep up-to-date with the latest LNG developments, start your free trial to LNG Industry magazine today.
If China were to fill every drop of uncontracted LNG with US gas, that would amount to about US$20 billion a year in purchases by 2030. There are already signs of growing cooperation between the two countries. Earlier this year, China National Petroleum Corp. signed a 25-year deal with Cheniere Energy Inc. to buy US gas. China Petrochemical Corp. has signed a joint development agreement with a proposed export plant in Alaska, and China Gas Holdings Ltd. has agreed to purchase 3 million tpy of LNG from Delfin LNG's proposed plant in the Gulf of Mexico.
Read the article online at: https://www.lngindustry.com/liquefaction/21052018/lng-could-win-big-from-us-china-trade-truce/
You might also like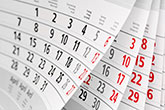 Klaipedos Nafta has carried out a capacity allocation procedure for the Klaipeda LNG terminal, securing full occupancy until 2033.