---
Reuters are reporting that Asian spot LNG prices have spiked amid a flurry of buying interest from buyers in China, Pakistan, South Korea and India, and as new supply from Australia is delayed by several months.
Spot prices for July LNG-AS delivery in Asia were at US$8.70 per million British thermal units (mmBtu) this week, jumping 80 cents from the previous week, according to several LNG traders. Price assessments last week were still looking at cargoes loading in June.
The LNG market is in the midst of the northern hemisphere's low-demand spring season, during which little gas is typically used. Demand this year has been relatively strong, however, pushing spot prices higher than the seasonal average.
Stronger prices for other power generating fuels coal and oil are also lending support to LNG prices. Oil prices climbed to above US$80 per barrel this week, the first time since late 2014.
Global gas inventory levels heading into the summer are below the seasonal average as well, also boosting prices, Goldman Sachs analysts said.
Gas inventories across the Organisation for Economic Co-operation and Development may be 650 billion ft3 below the seasonal average, equivalent to a shortfall of 4.3 days of demand, the Goldman analysts said.
Maintenance in Angola's Soyo plant in July and delays on Australia's massive new Ichthys LNG project are also expected to tighten supplies.
Meanwhile, Chinese buyers, including state-owned companies, are back in the spot market looking for cargoes for the next few months, trade sources said.
Gas distributor ENN, for instance, is seeking a commissioning cargo for China's first privately owned LNG import terminal, expected to be ready in two months.
Pakistan LNG is also seeking six LNG cargoes of about 140 000 m3 each for delivery over July to August, as three new power plants in the country start up after initial teething issues.
South Korea's POSCO and Korea Midland Power Co Ltd (Komipo) are both seeking spot cargoes for delivery in July as well.
Korea Gas Corp may look for cargoes ahead of winter to build up inventories and to meet summer demand, though the requirement will depend on the status of nuclear plants in the country.
Indian Oil Corp and Bharat Petroleum Corp Ltd are also looking for cargoes for delivery in June.
On the supply side, Indonesia's Donggi-Senoro LNG export plant has offered a cargo for late-June loading, traders said.
Read the article online at: https://www.lngindustry.com/liquefaction/18052018/spot-prices-spike-amid-flurry-of-interest-from-asian-buyers/
You might also like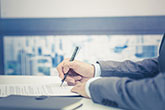 Congo's Ministry of Hydrocarbons has signed a co-operation agreement with Technip Energies that will see the parties expand cooperation in the fields of offshore and onshore energy developments.