---
According to the latest Bloomberg report, Charif Souki, fired in 2015 by the LNG company he founded, is now heading a new developer and is changing his plan of attack.
Souki's latest idea is to mostly deal debt out of the picture. The company he chairs, Tellurian Inc., is seeking investors to pay a total of US$12 billion up front to fund the proposed Driftwood LNG export terminal in Louisiana. In return, they get a stake in the project and the ability to buy fuel at cost moving forward, with no markup based on a changing marketplace.
Included in the pitch: A plan to control supply by buying production fields and pipelines. While that part is not unique, the total package is, driven by a man whose ideas were once called "harebrained" by billionaire investor Carl Icahn. Will buyers bite? None have yet, but Souki's previous success in launching the first US gas exporter could tip the scales.
"They have a proven track record of executing a project," said Sam Margolin, lead analyst at Cowen and Company LLC in New York. "These are expensive, really complicated, really difficult projects."
Tellurian is in advanced talks with potential equity partners for Driftwood, Meg Gentle, the company's chief executive officer, said. Partners in the first phase of the project will get a board seat, according to the company.
So far, Total SA has invested US$207 million in the company, Bechtel Corp. added other US$50 million and General Electric Co. invested US$25 million. Tellurian has also raised US$100 million in public equity. At the same time, the market is clearly skeptical: Tellurian's value has fallen by half to just over US$2 billion since February 2017, when it went public. The most likely reason: It is based on a gamble.
"This cleverly removes the banks from the whole formula, and then it becomes the buyer's problem," said Jason Feer, head of business intelligence at Poten & Partners Inc. in Houston. "The fact that you don't have a whole bunch of people falling over themselves to sign is an indicator of how complicated it is."
Feer said he could not think of any company that is "financed or done a major project that was structured like this. It is a pretty radical departure."
Souki was forced out as CEO at Cheniere Energy Inc., the first company to export US shale gas in a super-chilled form, in a drive led by Icahn. Now, the 65-year-old Souki sees a chance to take a new approach. For Houston-based Tellurian, seeking equity up front and selling LNG at cost makes sense in an environment where abundant gas supply makes buyers more reluctant to sign long-term contracts, Souki said.
"You are in a commodity business, so it's not very easy to get long-term contracts anymore," he said. "I don't think the customers are afraid of not finding molecules."
Tellurian plans to spend US$2 billion to buy up gas reserves to feed the terminal, starting with Louisiana's Haynesville shale. And it anticipates spending a little more than that to build pipelines that will shuttle gas to the project.
Additionally, the company plans to source cheap gas from the Permian Basin of West Texas and New Mexico, where the fuel is produced as so-called associated gas, a byproduct of drilling for oil.
"You need to be integrated, you need to be able to add a source of associated gas that the producer of oil doesn't need, or be able to produce gas yourself at a very competitive price," Souki said.
The integrated model could allow Tellurian to load LNG onto a ship at US$3 per million British thermal units or less after factoring in the price of the fuel and the cost of chilling and shipping it, according to Gentle. In January, the price for LNG at export for Cheniere's Sabine Pass terminal in Louisiana was US$3.15 to US$6.15 per million Btu, Energy Department data show.
At the same time, the investors could end up paying more if gas prices or operating costs rise, the company has said.
"We are really focused on integration for the purpose of achieving a low-cost model," Gentle said.
Though the integrated model has been used to develop gas fields in Qatar, Mozambique and Australia, it is only now starting to be pursued in the US. At least one other US LNG project may employ a similar strategy: State-owned Qatar Petroleum is partnering with Exxon Mobil Corp. and ConocoPhillips to build the Golden Pass terminal in Texas. Exxon is reportedly in talks with Qatar over a partnership that could see the nation owning US gas.
While added flexibility has been a much-discussed factor within the industry lately, buyers in Asia and other major gas-consuming regions may prefer the traditional model of an LNG contract linked to changes in oil prices, rather than signing for a fixed price, said Het Shah, head of natural gas research for Bloomberg New Energy Finance in New York.
"Most buyers would rather stick to an index and not speculate on price direction," Shah said.
In the meantime, Tellurian has some financial breathing room: Souki and Tellurian co-founder Martin Houston, chairman of investment bank Tudor Pickering Holt & Co.'s international business, own more than half of the company, which allows them to play the long game and not sweat its volatile stock moves, Souki said.
Tellurian aims to begin construction of Driftwood in the first half of 2019, pending a final investment decision. If that time line holds, the terminal could be up and running in 2023.
Read the article online at: https://www.lngindustry.com/liquefaction/16042018/a-new-way-to-finance-lng-exports/
You might also like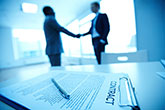 OMV has announced the signing of a long-term sale and purchase agreement with Cheniere Energy, Inc., covering the supply of up to 850 000 tpy of LNG beginning in late 2029.