---
A new report from The Conference Board of Canada, entitled 'Canadian Industrial Outlook: Canada's Gas Extraction Industry', suggests that although LNG prices are expected to remain weak until the end of the decade, demand for LNG is expected to expand in the long-term, opening up an opportunity for LNG projects in Canada.
The report suggests that the current wind down in LNG investment and the long-term capital required to meet future demand growth over the coming decades will create an opportunity for new LNG projects. Global investment in LNG liquefaction is expected to decrease at an annual pace of nearly 40% through 2020. Meanwhile, the latest 'World Energy Outlook' from the International Energy Agency (IEA) forecasts that demand for LNG will increase by an average rate of more than 3% per year over the next two decades. As such, approximately US$15 billion in annual investments in new LNG facilities would be required over the next two decades to meet rising LNG levels.
However, the report warns that low commodity prices will challenge the economics of new LNG projects, including those proposed in Canada. The Conference Board of Canada also expects Canada's gas extraction industry to report a pre-tax loss of CAN$1.6 billion this year, due to persistently low natural gas prices in North America.
Carlos A. Murillo, Economist, The Conference Board of Canada, said: "While low prices will challenge the economics of new Canadian LNG projects, the news is not all bad for Canada's gas extraction industry. New investment will still be needed to meet the world's long-term demand for natural gas […] However, this opportunity cannot be taken for granted. Cost competitiveness and time of entry must be kept top of mind in order for Canada to succeed in the growing global LNG market. Given the current speed of project approval and development, that is not a concern to be taken lightly.
"Conditional approval of the Pacific Northwest LNG project by the Government of Canada is a positive development for the industry. But, any significant anticipated surge in industry output stemming from this decision is still years away."
Read the article online at: https://www.lngindustry.com/liquefaction/14102016/lng-opportunities-still-exist-for-canada/
You might also like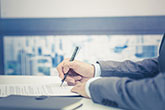 In its efforts to further boost natural gas utilisation in the country and enhance Nigeria's gas revenue, NNPC Ltd has signed two major agreements to deliver LNG to the domestic gas market and the international LNG market.