---
Reuters are reporting that Exxon Mobil will expand its Rovuma LNG project in Mozambique by half to cut production costs as the partners prepare to book the plant's supply and formally tap lenders in September.
The US oil giant took charge of the East African LNG project's onshore operations following a US$2.8 billion deal with Italy's Eni last year, adding to its slate of planned gas projects in Qatar, Papua New Guinea, Russia and the US.
It now aims to build the world's biggest liquefaction units, or trains, outside Qatar, in Mozambique's remote north, shelving former operator Eni's more modest blueprint in pursuit of cost savings to boost returns on investment.
"The larger train design will lower the unit cost of the Rovuma LNG project and ensure a competitive new supply for the global LNG market," Exxon spokeswoman Julie King said.
Under new development plans submitted to the government this week, Exxon's first two liquefaction trains should each produce 7.6 million tpy, with a start date in 2024.
Eni initially planned 5 million tpy trains.
The Italian oil major holds the offshore resource licence to Area 4, which contains some 85 trillion ft3 of gas in place to be supercooled into a liquid and exported on ships to world markets.
Super-sizing the first two trains means having to renegotiate a resource-sharing deal Eni struck in 2015 with rival LNG project developer Anadarko Petroleum, which owns the neighbouring Area 1 licence.
A geologically porous section of Area 4 covering the Mamba and Prosperidade fields straddles Area 1. This effectively means Exxon-Eni would pump gas away from Anadarko's adjoining reservoir to feed its LNG plant.
"Area 4 and Area 1 stakeholders have agreed on the Unitization and Unit Operating Agreement (UUOA) which has been presented to the Mozambican government for approval," Exxon's King said.
Anadarko spokeswoman Helen Wells said the company was engaging with the government and Area 4 to address any concerns and ensure the UUOA benefits all involved.
Mozambique's two rival LNG projects are ramping up to take final investment decisions (FID) in 2019 and both are teeing up buyers and loans to underpin hefty construction costs.
But there the similarities end.
Anadarko Petroleum's approach involves raising a record US$14 – US$15 billion from banks and export credit agencies (ECAs) to fund the build. At the same time, it is lining up long-term LNG sales deals with external companies in China, Asia and Europe to guarantee the loans.
Exxon in contrast will finance a larger share of costs from its own pockets as well as drawing on project partners, including Eni, Korea Gas Corp and China National Petroleum Corporation, bank and industry sources say.
Exxon said it expects Rovuma LNG financing to originate from a mix of "external lenders and joint-venture party funding."
"We have begun initial engagement with lenders and are planning a formal kick-off event in September 2018," King said.
Exxon already approached those ECAs that backed Eni's Coral South Floating LNG project in Area 4 last year.
For its part, Anadarko engaged commercial banks on 21 May after having first secured interest for about US$12 billion from ECAs.
Production from Rovuma LNG will also be treated differently.
While Anadarko sought out buyers from France's EDF to Britain's Centrica and Japan's Tokyo Gas, Exxon is holding talks for binding sales and purchase agreements for Rovuma output with subsidiaries of its Area 4 project partners.
"We expect sufficient interest from the affiliate buyers to launch the project and support the financing," King said.
Read the article online at: https://www.lngindustry.com/liquefaction/13072018/exxon-mobil-beefs-up-mozambique-lng-project/
You might also like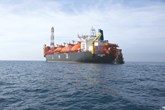 OLT Offshore LNG Toscana has received authorisation to increase its annual regasification capacity from the current 3.75 billion m3/y to approximately 5 billion m3/y.