McKinsey Energy Insights expects the global LNG market to remain oversupplied until 2024
Published by Joseph Green, Editor
LNG Industry,
---
McKinsey Energy Insights (MEI), the data and analytics specialist that provides distinctive insight to the global energy industry, has released its North American Gas Outlook to 2030, in which the company anticipates that demand for North American gas will grow steadily. However, the global LNG market will become oversupplied from 2021 to 2024, with no new North American projects required in that period.
MEI forecasts that demand for North American gas will increase at 2.9% per year until 2022 and grow at a slower pace of 1.3% per year afterwards. This will primarily be spurred by LNG exports which will account for 55% of overall growth in the period, in addition to shifting power generation and rising chemicals production. Mexico will continue to be another major contributor to this growth, with gas demand expected to increase by approximately 4 billion ft3/d by 2030, to fuel the country's growing power and industrial sectors.
However, the addition of approximately 10 billion ft3/d LNG export capacity by 2021 means that the global LNG market will remain oversupplied until 2024. From 2025 onwards, MEI foresees a second wave of 6 – 7 billion ft3/d of LNG capacity needed online, encouraged by cost competitiveness of US LNG projects. As a result, it is unlikely that any new North American LNG projects will be required between 2021 and 2024, with current projects more than sufficient to meet demand.
Yasmine Zhu, Senior Analyst at MEI said: "In the near term, excess LNG capacity means buyers will have their pick of LNG suppliers and will naturally gravitate towards the ones that are the most competitive. US suppliers, perceived being low cost and flexible, could be the marginal supplier to the Pacific market. Post-2024, the market is expected to rebalance, and suppliers will find themselves in a more advantageous position."
The North American Gas Outlook to 2030 was developed by MEI analysts after reviewing forecasting models from MEI's interconnected suite of products. This included the North America Flow Basis Model, which incorporates supply, demand, and pipeline networks to derive flow patterns and market price basis through 2030. The model covers 57 gas pricing nodes and 156 flow paths, with the objective of minimising total transportation cost.
Read the article online at: https://www.lngindustry.com/liquefaction/13062018/mckinsey-energy-insights-expects-the-global-lng-market-to-remain-oversupplied-until-2024/
You might also like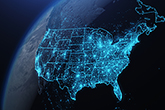 A Seapath and Pilot LNG joint venture will develop, construct, and operate a terminal in the Galveston Bay area supporting LNG-powered vessels.