---
Reuters are reporting that a move by Korea Gas Corp to seek arbitration over the terms of a LNG contract with Australian exporters could herald a shake-up of the region's LNG market as other buyers follow suit.
Asian buyers have so far resisted taking on producers over pricing or what they see as restrictive clauses in long-term contracts, some stretching out for decades, but abundant supplies look to be driving a change of heart.
Changes to clauses, particularly on pricing and those prohibiting buyers from on-selling cargoes, could lead to a surge in LNG trading, echoing the European experience after a wave of arbitration cases five to 10 years ago.
"We see Asian markets in a similar position as the European gas market was 10 years ago," said Madjid Kuebler, an arbitration expert and managing director of energy consultancy Team Consult.
"We believe that contractual disputes, including arbitration proceedings, are on the increase," he said.
Most of Asia's LNG is supplied under long-term deals that ensure buyers get steady supplies, while producers obtain a stream of revenue.
Before 2014, when supplies were tight, buyers were willing to sign up to terms that offered little flexibility.
But with LNG now more abundant thanks to production rises from Australia to the US, Asian buyers have started to demand better terms.
Producers including Australia's Woodside Petroleum and Royal Dutch Shell have said they are open to negotiating new contracts with more flexibility, but they have resisted granting changes to existing deals.
The decision by state-run KOGAS to enter court-administered arbitration with Australia's North West Shelf joint venture over pricing is the first known such case in the Asia/Pacific region.
"Asian buyers and their counterparties have traditionally preferred to avoid litigation under long-term LNG contracts. However, the market is changing," said James Taverner of energy consultancy IHS Markit.
More than 15 LNG contracts are either under price review, or have price reviews coming up this year, accounting for over 15% of North Asian LNG supply, said Saul Kavonic of energy consultancy Wood Mackenzie.
Supply contracts go into arbitration when counterparties fail to agree terms during regular term reviews, but how many of these reviews will end up in arbitration is unclear.
"There is usually very little public information revealed about LNG arbitration cases," said Taverner.
The main sticking points in fixed LNG supply contracts are 'take or pay' clauses forcing buyers to pay for cargoes even if they don't need them, 'destination clauses' preventing buyers from selling on cargoes, and an oil-link to the price of LNG.
Buyer demands received support when regulators in Japan, by far the world's biggest LNG importer, said in mid-2017 that restrictions on reselling cargoes were illegal.
IHS's Taverner said the industry "will be watching price reviews and the prospect of any arbitration closely."
Australia's Macquarie bank said in an earnings preview for Woodside that 2019 earnings "will fall as Pluto's (export facility) foundation contract comes up to re-pricing" with Japan's JERA.
JERA has said it will cut the amount of long-term contracts and seek more flexible terms with any future deals. It has already done so with Malaysia's Petronas.
Poten and Partners, an LNG consultancy and brokerage, said in a note "contract sales fell to less than 22 million tonnes per year in 2017, down from more than 30 million per year in 2016."
This fall came despite a 20% rise in global LNG demand last year.
Read the article online at: https://www.lngindustry.com/liquefaction/13022018/as-kogas-goes-into-lng-arbitration-others-may-follow/
You might also like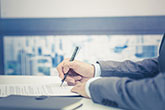 Congo's Ministry of Hydrocarbons has signed a co-operation agreement with Technip Energies that will see the parties expand cooperation in the fields of offshore and onshore energy developments.