US embassy warns citizens to consider leaving district in north Mozambique
Published by Joseph Green, Editor
LNG Industry,
---
Reuters are reporting that the US embassy in Mozambique has said that Americans should consider leaving a northeastern district close to a major gas field as imminent attacks are likely after suspected Islamist militants beheaded 10 people and killed seven others since May.
Any sign of militant activity is a concern for the country's fledgling gas industry and the area around the town of Palma near the Tanzanian border where the attacks took place is close to one of the world's biggest untapped offshore gas fields.
"We strongly advise American citizens in the district headquarters of Palma to consider departing the area immediately," the embassy said, warning of the "likelihood of imminent attacks."
More than US$30 billion is expected to be invested in Mozambique's natural gas sector to build capacity to produce 20 million tpy of LNG, with the first exports from the fields discovered seven years ago due to start after 2021.
Anadarko Petroleum is seeking to raise a record US$14 – US$15 billion from banks and export credit agencies for its huge LNG project there.
"We take very seriously any potential threat to the safety of our employees and we continue to closely monitor the situation in the Palma area," Anadarko said.
The company declined to comment on reports it had suspended work on its massive LNG project in the war-scarred southeastern African country.
The Interfax Global Energy website, citing local sources, said militant attacks had caused work at the LNG site in Palma to be suspended.
Six men wielding machetes killed at least seven people and injured four others this month in the predominantly Muslim region close to the Tanzanian border and 10 were beheaded last month.
Mozambique has not been a focal point of Islamist militant activity in the past and police have been reluctant to ascribe the attacks to Islamists.
Mozambique has little history of militant activity and police are reluctant to ascribe the attacks to Islamists.
The gas find could enable the country to become a major LNPG exporter and attain middle income status. Currently it is one of the world's poorest countries.
About 30% of Mozambique's 30 million people are Roman Catholics. Muslims make up about 18% of the population.
Read the article online at: https://www.lngindustry.com/liquefaction/12062018/us-embassy-warns-citizens-to-consider-leaving-district-in-north-mozambique/
You might also like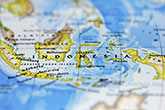 President Joko Widodo has officially inaugurated Tangguh Train 3 in Indonesia.