---
Bloomberg are reporting that European nations are far behind Mexico and China when it comes to receiving LNG from the US, but the region is making its biggest effort to date to change that.
European Commission trade officials will travel to Washington on 20 August to follow up on an energy agreement last month between the Commission's President Jean-Claude Juncker and US President Donald Trump. Europe pledged to import more LNG in a bid to diversify imports, while America is seeking new markets for its expanding production of the fuel. Russia is currently Europe's biggest supplier.
"The European Union is ready to facilitate more imports of liquefied natural gas from the U.S. and this is already the case as we speak," Juncker said in a statement. "The growing exports of US liquefied natural gas, if priced competitively, could play an increasing and strategic role in EU gas supply."
Europe received about 10% of total US exports last year, up from 5% in 2016 after the American shale gas revolution went global with the opening of the Sabine Pass export facility on the country's Gulf of Mexico coast. Since then, Europe has imported more than 40 LNG cargoes from the US, or 2.8 billion m3, the Commission said.
Still, that is just a fraction of Europe's demand of almost 550 billion m3 last year. Most gas arrives by pipelines from Russia and Norway, as well as in LNG tankers from Qatar, the biggest producer of the super-chilled fuel. As the region's own fields deplete and nuclear and coal plants are decommissioned, demand for the fuel is rising.
European buyers are taking a closer look at US gas after Brent oil futures, a key pricing component for much of the LNG sold across the globe, soared to a 3 and a half year high earlier this year, Greg Vesey, chief executive officer of Liquefied Natural Gas Ltd., said.
Russian gas supplies to Europe are also linked to crude, and moves in the commodity affect gas prices at the region's hubs. US supplies, in contrast, are tied to low-cost shale gas at the benchmark Henry Hub in Louisiana.
The discount for Henry Hub versus futures at the UK's National Balancing Point has widened to about US$5 per million British thermal units, the most for this time of the year since 2013.
"Now the prices actually make sense with where crude is going, the spreads are there and it's worthwhile to talk about US gas," said Vesey, whose company is developing an export terminal in Louisiana.
While potential buyers from Europe had previously insisted on locking in supplies based on their local benchmarks, they're now asking for document details based on Henry Hub, Vesey said.
Europe has also pledged to reduce its increasing dependency on the Russian fuel by supporting the development of new LNG terminals. And while Trump has a vision of Europe becoming a "massive buyer" of US LNG, the product will still have to compete with lower-cost gas arriving from Siberian fields.
So far, the economics work against large-scale US LNG volumes sent to Europe, but that may change as the global market for the fuel expands, Citigroup Inc. said in May.
To facilitate LNG trade with the region, the US needs to lift its requirement for prior regulatory approval of exports to the EU, the Commission said. The bloc has also committed to help finance LNG infrastructure projects and is supporting new terminals from Croatia to Greece and Ireland.
Read the article online at: https://www.lngindustry.com/liquefaction/10082018/europe-getting-serious-about-buying-us-lng/
You might also like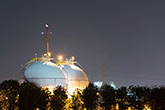 Gate terminal B.V has selected VINCI Construction Grands Projets – Entrepose Contracting, Sener, and Sacyr Proyecta to execute the expansion of the terminal with a fourth LNG storage tank.