---
Reuters are reporting that global LNG prices eased this week as the market digested the impact of the earthquake in Papua New Guinea that in late February knocked out ExxonMobil's export facility just as extreme cold in Europe spiked heating demand there.
The sudden shortages triggered a rush for spot cargoes in the Pacific and Atlantic as utilities scrambled to meet short-term demand, pushing up prices earlier in March.
Exxon's outage in Papua New Guinea will last for weeks after the company declared force majeure last Friday on its exports and has to assess damage to the remote gas processing facility and over 700 km of pipeline to the LNG export terminal.
A company declares a force majeure when it is unable to fulfil a contract because of forces beyond its control.
While some buyers reportedly bought LNG spot cargoes at around US$10 per mmBtu in the immediate wake of the Papua outage to meet short-term demand, multiple traders this week said overall LNG market conditions were easing due to the onset of the low demand spring season across the Northern Hemisphere.
Asia spot LNG prices LNG-AS were around US$8.50 per mmBtu on Friday, down from US$8.80 the previous week.
Weather data in Thomson Reuters Eikon shows temperatures in Tokyo, Beijing and Seoul – three core demand centres for LNG in North Asia – to rise to around double their seasonal norms within the next two weeks, implying a sharp drop-off in gas demand for heating.
In Europe, where a spat of extreme cold caused prices to spike to records last week, temperatures have also returned to seasonal norms and are expected to rise further in the coming weeks as winter ends.
Although LNG markets are expected to ease during the upcoming low demand spring in the Northern Hemisphere, Katie Bays, an energy analyst at US Height Securities, said in a note that markets were overall getting tighter, due to structural demand increases, especially in China, where a government gasification programme is moving millions of households and factories from coal to gas.
"Though prices have come in, they remain around $8.50/mmBtu, supported by outages in Papua New Guinea... and by a sudden cold snap in Northwest Europe, which sent UK gas prices soaring (last week)," Bays said.
China's natural gas imports surged by more than a quarter last year and it overtook South Korea as the world's second-biggest importer of LNG. Only Japan buys more, although most analysts expect China to pass Japan in the coming years as well.
Since China has significant domestic gas production, and also has large pipelines feeding it from Central Asia, its utilities only scale up LNG purchases in the spot market when their demand cannot be met otherwise, especially during peak demand in the winter.
"The market will see a very tight winter next year with little new capacity set to come online," Bays said.
Low demand lulls during spring and tight winters triggering a wave of Chinese buying will likely result in "greater price volatility," she added.
Read the article online at: https://www.lngindustry.com/liquefaction/09032018/global-gas-markets-ease-as-traders-handle-papua-new-guinea-outage/
You might also like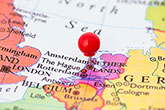 VTTI and Höegh LNG have signed an agreement to jointly explore options to develop and operate Zeeland Energy Terminal, the Netherlands.