---
Reuters are reporting that Cheniere Energy Inc said on 4 May that it plans to make a final investment decision to build the third liquefaction train at its Corpus Christi LNG export facility in Texas in the next few weeks.
"We've recently announced the bank group arranging the project financing and are working diligently on the process with them in anticipation of being able to make (final investment decision) in the next few weeks," Cheniere Chief Executive Jack Fusco said.
Even before making that final investment decision, the company said it has already achieved the first concrete pour on the Corpus Christi 3.
Cheniere also said construction of three other 0.7 billion ft3 per day liquefaction trains was ahead of schedule with Sabine Pass 5 in Louisiana and Corpus Christi 1 expected to enter service in the first half of 2019 and Corpus Christi 2 now expected in the second half of 2019.
Corpus Christi 2 had been expected in 2020.
Note: If you want to keep up-to-date with the latest LNG developments, start your free trial to LNG Industry magazine today.
Corpus Christi 3 should keep Cheniere at the front of the pack of companies competing to build the next generation of US LNG terminals to meet potential global LNG supply shortfalls in the early 2020s.
Total US export capacity is expected to rise to 3.9 billion ft3 per day by the end of 2018, 8.7 billion ft3 per day by the end of 2019 and 10.1 billion ft3 per day by the end of 2020 from 3.8 billion ft3 per day now, making the country the third biggest LNG exporter by capacity in 2019.
Cheniere is already the biggest buyer of natural gas in the United States, consuming over 3.1 billion ft3 per day, and is on track to become the second biggest LNG operating company by capacity in the world in 2020, behind only Qatar Petroleum, according to data from energy analysts at Wood Mackenzie.
Cheniere's Sabine Pass project was the first big LNG export facility to enter service in the Lower 48 US states in February 2016. The company currently has four 0.7 billion ft3 per day liquefaction trains in service at Sabine Pass, one under construction and another, train 6, in development.
Read the article online at: https://www.lngindustry.com/liquefaction/08052018/cheniere-to-decide-on-corpus-christi-3-lng-export-terminal-in-weeks/
You might also like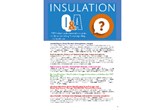 LNG Industry asked several companies to discuss some key factors regarding LNG insulation in our recent November 2023 issue of the magazine.