---
Reuters are reporting that energy executives say the Trump administration's proposed steel and aluminium tariffs could bump up the cost of big-ticket projects needed for rapidly rising US gas output by 3 – 10%.
Higher construction costs could slow growth in production and exports of natural gas from shale that has made the US the world's largest gas producer.
President Donald Trump's proposal is emerging as a potential spoiler for new US pipelines, drilling rigs, offshore platforms and refineries to handle coming oil and gas production. Companies including Exxon Mobil Corp, Kinder Morgan Inc and others have outlined tens of billions of dollars of new steel-intensive petrochemical and pipeline expansions in the US.
The administration has not yet formally unveiled its plan. It is unclear whether exemptions would be available for certain sectors, or for steel from places such as Canada, the biggest foreign provider of the metal to the US. US trading partners have said they could counter tariffs with their own levies on US exports.
If the proposed tariffs were in place when natural gas company Freeport LNG was building its first three LNG production lines, they would have raised the multi-billion dollar construction cost by about US$200 million, or between 3.5 – 5%, Chief Executive Michael Smith said.
Freeport LNG is in the process of building a fourth production line at the LNG plant in Texas. Steel tariffs would affect the economics of the plant but not deter the company from building it, Smith said.
If the tariffs lead to a trade war with China, then Freeport LNG could suffer because China is among the long-term buyers for the gas, he said. US export capacity was less than 2 million tpy in 2015, and is expected to top 77 million tpy by 2022, which would make it the world's No. 2 exporter behind Australia.
Read the article online at: https://www.lngindustry.com/liquefaction/07032018/energy-execs-says-tariff-gambit-could-hit-lng-project-costs/
You might also like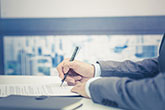 In its efforts to further boost natural gas utilisation in the country and enhance Nigeria's gas revenue, NNPC Ltd has signed two major agreements to deliver LNG to the domestic gas market and the international LNG market.