---
Reuters are reporting that China's proposed tariffs on US LNG and crude oil exports opens a new front in the trade war between the two countries, at a time when the White House is trumpeting growing US energy export prowess.
China included LNG for the first time in its list of proposed tariffs on 3 August, the same day that its biggest US crude oil buyer, Sinopec, suspended US crude oil imports due to the dispute.
On 3 August, China announced retaliatory tariffs on US$60 billion worth of US goods, and warned of further measures, signalling it will not back down in a protracted trade war with Washington.
That could cast a shadow over US President Donald Trump's energy dominance ambitions. The administration has repeatedly said it is eager to expand fossil fuel supplies to global allies, while Washington is rolling back domestic regulations to encourage more oil and gas production.
"The juxtaposition here is clear: It is hard to become an energy superpower when one of the biggest energy consumers in the world is raising barriers to consume that energy. It makes it very difficult," said Michael Cohen, head of energy markets research at Barclays.
The US is the world's largest exporter of fuels such as gasoline and diesel, and is poised to become one of the largest exporters of LNG by 2019. US LNG exports were worth US$3.3 billion in 2017. China is the world's biggest crude oil importer.
China had curtailed its imports of US LNG over the last two months, even before its formal inclusion in the list of potential tariffs. It had also become the largest buyer of US crude oil outside of Canada, but Kpler, which tracks worldwide oil shipments, shows crude cargoes to China have also dropped off in recent months.
It comes at a time when the US has several large-scale LNG export facilities under construction, and after Trump's late 2017 trip to China that included executives from US LNG companies.
China became the world's second-biggest LNG importer in 2017, as it buys more gas in order to wean the country off dirty coal to reduce pollution.
"This will not affect the trade but will simply make gas more expensive to Chinese consumers," said Charif Souki, chairman of Tellurian Inc, one of several companies seeking to build a new LNG export terminal.
China, which purchased almost 14% of all US LNG shipped between February 2016 and May 2018, has taken delivery from just one vessel that left the United States in June and none so far in July, compared with 17 in the first five months of the year.
"The US gas industry will be much harder hit by this as China imports only a small volume whereas US suppliers see China as a major future market," said Lin Boqiang, professor on energy studies at Xiamen University in China.
With LNG demand expected to skyrocket over the next 12 to 18 months, there are still some two dozen firms seeking to build new LNG export terminals in the US and tariffs may limit their ability to secure sufficient buyers to finance their proposed projects.
"Cheniere continues to see China as an important growth market and LNG as a 'win-win' between the United States and China," said Eben Burnham-Snyder, a spokesman at Cheniere Energy Inc, which owns one of the two LNG export terminals currently operating in the United States. He added they do not see tariffs as productive.
One project being developed is in Alaska, which would carry natural gas through an 1287 km pipeline across the state to a terminal that would convert it to LNG to take it to China.
The US$43 billion project is still in development, and the Alaska Gasline Development Corp said on 3 August that it believes the "current trade tensions between the United States and China will be resolved well in advance of Alaska LNG exports to China."
Read the article online at: https://www.lngindustry.com/liquefaction/06082018/china-tariffs-on-lng-aim-at-us-energy-dominance-agenda/
You might also like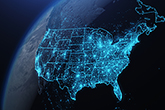 A Seapath and Pilot LNG joint venture will develop, construct, and operate a terminal in the Galveston Bay area supporting LNG-powered vessels.