---
Bloomberg are reporting that LNG is bracing for a direct hit from increasing global trade tensions.
US President Donald Trump's tough talk on trade with China is looming over his country's efforts to become the world's largest exporter of LNG. In Europe, a potential pipeline project from Russia has been imperiled by possible US sanctions, while the sales practices of Qatar, the world's biggest LNG seller, are under investigation as being anti-competitive.
The friction risks disrupting global trade of gas worth almost US$300 billion last year, threatening to distort flows of the commodity just as demand for the cleaner-burning fuel explodes. It is also casting a shadow over multi-billion dollar export projects in the US while creating opportunities for countries untouched by the wave of protectionism.
"Populism has come back and with it a form of economic nationalism, and that's occurred at the same time as the emergence of global gas," said Trevor Sikorski, head of natural gas and carbon research at Energy Aspects Ltd. in London. "The former is leading to trade wars, and as soon as that happens everything is on the table."
The complications arising from trade disputes and geopolitical tensions could distort the global gas market, although it's unlikely to derail its growth, Sikorski said. For instance, if China levies tariffs against US LNG, traders could re-route cargoes to Japan and South Korea while selling Australian gas to China. Or a drop in Qatari shipments to Europe could be replaced by fuel from Nigeria or Angola.
The end result will be extra fees for traders and slightly higher costs for end consumers, said Nicholas Browne, an analyst with Wood Mackenzie Ltd. in Tokyo. He pointed to the example of Russia's gas pipeline to Europe, which just celebrated its 50th anniversary, as how trade can endure despite disputes.
"Even at the height of Soviet tensions or the worst days of the Ukraine crisis, they continued to export gas to the West," Browne said. "When it's in the economic interest of both parties, trade will continue."
That's being tested anew by Russian efforts to boost European sales. President Vladimir Putin recently claimed US trade interests are at the heart of Trump's threats of sanctions against the Nord Stream 2 pipeline between Russia and Germany because its success could reduce Europe's demand for U.S. gas.
Meanwhile, Europe is also trying to give its utilities greater flexibility and weaken Qatar's grip on the market. The European Commission last month said it would check "problematic territorial restriction clauses" in LNG contracts with the Middle East nation that may prevent importers reselling the gas. That probe comes a month after the regulator for the 28-nation bloc settled a 7-year investigation into how Russia's Gazprom PJSC's set prices for its pipeline gas supply to Europe.
"It's been a European policy goal for quite a long time to increase market liberalization," Wood Mackenzie's Browne said. "They want open access to European gas markets, and that doesn't work if you have a lot of supplier concentration."
Despite being at the center of trade tensions, the US and China are a natural fit in the global gas market. China's booming demand pushed it past Japan this year as the world's biggest importer. Meanwhile, the US is vying with Qatar and Australia to become the largest exporter of LNG, the super-chilled form of the fuel that's shipped around the world on special tankers.
That explains why LNG has been conspicuously absent as a target of China's retaliatory levies after Trump announced duties on US$34 billion worth of Chinese exports, which are scheduled to go into effect Friday. The country's blazing gas demand growth – part of an effort by President Xi Jinping to cut coal use and smog – means it can't be picky about where it gets its supply, Browne said.
"Security of supply is still paramount for China at the moment," Browne said. "It's in the best interest for both countries to continue to trade."
Even though LNG has so far eluded direct tariffs, trade tensions are still having an effect on the market. Greg Vesey, head of the Australian company developing the US$4.35 billion Magnolia LNG project in Louisiana, said a number of parties he's talking to have indicated they want to see how the trade tiff shakes out before signing on the dotted line.
Projects to export America's ample shale gas are vying with developments from Qatar and Russia to East Africa and Papua New Guinea to sign up long-term buyers that underpin billions of dollars in financing. It would be naive to think that competitors weren't trying to find a way to take advantage of concerns about trading with the US, according to Charlie Riedl, head of the Washington-based Center for Liquefied Natural Gas.
"They are absolutely, 100% trying to figure out how to capitalise on this," Riedl said.
Read the article online at: https://www.lngindustry.com/liquefaction/06072018/trade-tensions-loom-over-lng/
You might also like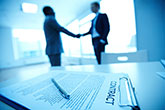 OMV has announced the signing of a long-term sale and purchase agreement with Cheniere Energy, Inc., covering the supply of up to 850 000 tpy of LNG beginning in late 2029.