---
The US Energy Information Administration (EIA) has predicted that the US will become a net energy exporter in most cases as its petroleum liquid imports fall and natural gas exports rise. The prediction was made in its Annual Energy Outlook 2017 (AEO2017).
The AEO2017 presents updated projections for US energy markets through 2050 based on eight cases (reference, low and high economic growth, low and high oil price, low and high oil and gas resource and technology, no clean power plan implementation).
The outlook suggests that exports are highest (and grow throughout the projection period) in the high oil and gas resource and technology case. This will be as a result of favourable geology and technological developments combining to produce oil and gas at lower prices. The high oil price case provides favourable economic conditions for producers, while restraining domestic consumption. This will enable the most rapid transition to net exporter status. US production will decline in the 2030s in all of the cases, except for the high oil and gas resource technology case.
Alternative cases incorporate different key assumptions, reflecting market, technology, resource, and policy uncertainties that may affect future energy markets.
The AEO2017 also suggests that energy consumption is consistent across all of its cases, bounded by the high and low economic growth cases. In the Reference case, total energy consumption increases 5% between 2016 and 2040. As a significant portion of energy consumption is related to economic activity, energy consumption is projected to increase by approximately 11% in the high economic growth case, over 2016 - 2040, and remain nearly flat in the low economic growth case.
Energy production ranges from nearly flat in the low oil and gas resource and technology case, to nearly 50% growth over 2016 - 2040 in the high resource and technology case. Projections of energy production vary widely, and growth is dependent on technology, resource, and market conditions. Total energy production increases by more than 20% in the reference case, from 2016 through 2040, led by increases in crude oil and natural gas production.
In most AEO cases, energy related carbon dioxide emissions will decline, with the highest emissions projected in the no clean power plan case. All of the AEO2017 cases except this case include the Clean Power Plan (CPP).
The EIA also confirmed that it has adopted a new two-year release cycle for its AEO. In the years between the full editions, a shorter edition will provide a smaller number of cases.
Read the article online at: https://www.lngindustry.com/liquefaction/06012017/us-to-become-net-energy-exporter/
You might also like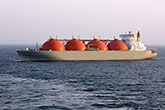 Following an earlier newbuild programme in June 2022 for four new vessels, the company has now been awarded the contract to supply reliquefaction systems for a further eight ships.