---
LNG Ltd. has announced that it has entered into a binding subscription agreement for a share placement of fully paid ordinary shares in the capital of LNGL through an investment made by IDG Energy Investment Group Limited, an investment holding company listed on the Stock Exchange of Hong Kong and affiliated with IDG Capital.
The share placement will be undertaken pursuant to the company's capacity under ASX Listing Rule 7.1 and no shareholder approval is required.
The share placement will raise gross proceeds of A$28.2 million before costs through the issuance of 56.4 million ordinary shares at A$0.50 per ordinary share, representing a 14.1% premium to the volume weighted average price of LNGL shares on the ASX over the 30-trading day period ending 1 June 2018 of US$0.44. Following close of the Share Placement, IDG Energy Investment will hold a 9.9% interest in the company.
Net proceeds from the share placement shall be used in support of ongoing LNG offtake marketing efforts, focused on Magnolia LNG, and for general corporate purposes.
"It is a great pleasure to welcome IDG Energy Investment to LNGL's investor group," said Greg Vesey, LNGL's Managing Director and CEO. "Proceeds from this share placement provide additional liquidity to LNGL, and the investment from IDG Energy Investment demonstrates a high level of confidence in our company, and particularly a strong confidence in the fully permitted, shovel ready Magnolia LNG project. We are confident that our strategic relationship with IDG Energy Investment will provide LNGL with additional opportunities to market LNG volumes given IDG Energy Investment's portfolio of infrastructure investments, including regasification interests."
Note: If you want to keep up-to-date with the latest LNG developments, start your free trial to LNG Industry magazine today.
IDG Energy Investment's President, Liu Zhihai, stated, "We are excited to announce our investment in and support for LNGL and its Magnolia LNG project, which we see as one of the best positioned US liquefaction projects to deliver needed LNG exports to Asia. IDG Energy Investment is particularly bullish on the long-term outlook for US-sourced LNG into China, and we will immediately begin working with LNGL to assist them in unlocking this market."
"The investment from IDG Energy Investment represents a ringing endorsement to the LNG buying community of LNGL's business strategy, the OSMR® liquefaction technology, and the Magnolia LNG and Bear Head LNG projects, respectively." added Paul Cavicchi, Chairman of LNGL. "We believe that the endorsement of LNGL from IDG Energy Investment positively positions our investors to benefit from the increased demand for LNG globally."
Read the article online at: https://www.lngindustry.com/liquefaction/04062018/lngl-raises-28-million-dollars-through-share-placement/
You might also like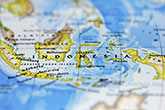 President Joko Widodo has officially inaugurated Tangguh Train 3 in Indonesia.