---
Reuters are reporting that Australia's trade surplus swelled to a 10-month peak in March as resource exports boasted a bumper run, suggesting the economy sprang ahead in the first quarter after a disappointing end to last year.
The 3 May batch of data from the Australian Bureau of Statistics also showed approvals to build new houses hit a three-year high in March and rapid population growth promised to support construction for many months yet.
The country's trade surplus climbed to AUS$1.53 billion (US$1.15 billion) in March, more than double forecasts, while January and February were both revised to show fatter gains.
As a result the surplus for the whole March quarter amounted to AUS$4 billion, a huge turnaround from the previous quarter's AUS$1 billion shortfall.
Analysts estimated that could have added around half a percentage point to gross domestic product growth in the quarter, reversing a big drag from the December quarter.
"Importantly, real net exports likely made a positive contribution to growth, whereas we anticipated a broadly neutral impact," said Westpac Senior Economist Andrew Hanlan.
"The outlook for exports is also positive, led by LNG as new capacity comes on stream, and by services such as education and tourism in response to strong demand from Asia and complemented by the recent retreat in the Australian dollar."
Shipments of LNG have been on a tear and helped lift exports in the March quarter almost 8% above the previous quarter.
Analysts now suspect GDP growth may have doubled in the March quarter to around 0.8 – 1.0%.
That would be welcome news to the Reserve Bank of Australia (RBA) which has been counting on a marked acceleration this year and next to revive inflation and wages.
It would also please the Liberal National government of Prime Minister Malcolm Turnbull which is due next week to hand down what is likely to be the last annual budget before a general election.
Adding to the upbeat news was a surprisingly steep 2.6% rise in approvals to build new homes in March.
Detached houses alone were up more than 10% on the year ago, a tonic for growth given they are far quicker to build than apartment towers and involve a much broader range of small businesses.
Craig James, chief economist at CommSec, noted the value of approvals for homes and commercial buildings had climbed to AUS$126 billion in the year to March, a record high.
"The building pipeline is already choc-a-bloc, but it continues to expand," said James.
"Construction companies are already claiming they can't find the staff they need. There will be upward pressure on wages."
Read the article online at: https://www.lngindustry.com/liquefaction/03052018/australias-trade-surplus-swells/
You might also like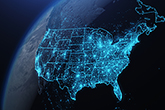 A Seapath and Pilot LNG joint venture will develop, construct, and operate a terminal in the Galveston Bay area supporting LNG-powered vessels.