---
The very first Laby®-GI Compressor of Burckhardt Compression was used as an MSO (minimum send-out) compressor. The compressor is installed on the FSRU (floating storage and regasification unit) vessel Golar Freeze, which will now receive a new lease of life. Golar Management in Norway has decided to re-market the vessel with a different function that requires a major revamp of the MSO Compressor, for which Burckhardt Compression has been awarded the contract.
After nearly 10 years of reliable operation in a harsh marine environment with low maintenance, the robustness of the Laby®-GI Compressor has paid off. This was the first compressor of its kind installed on an FSRU vessel. Golar Management Oslo, the ship-owner, has decided to provide the vessel with new employment. The new charterer in Jamaica will use the compressor for a different purpose, delivering gas to the Jamaica's power utility JPS. This requires an increase in discharge pressure from 45 to 65 barg that, in turn, requires an additional compression stage, along with its extra auxiliaries, piping and other modifications.
An engineering study was first performed to verify the feasibility of the plan. After all analyses had been completed, a clear picture of the necessary changes was available. The scope of the contract work was then defined, and a suitable offer was drawn up. Golar Management was fully convinced by the competencies of Burckhardt Compression, proceeded with the project and the chosen partner.
Note: If you want to keep up-to-date with the latest LNG developments, start your free trial to LNG Industry magazine today.
Gabriele Pipitone, Vessel Manager of Golar, said: "The technical solution offered and the tight delivery time for this project completely met our expectations. Burckhardt Compression was proactive, available at the right time, with the right plan, the right offer and the right team. We are pleased to have found the perfect solution for revamping the MSO compressor."
A floating storage regasification unit (FSRU) is a vital component that is required while transiting and transferring LNG through the oceanic channels. An FSRU can thus be regarded as a special type of ship used for LNG transfer. The FSRU has the capability to turn LNG into its gaseous form at relatively high pressure and transferring ashore for gas pipelines and power production.
Read the article online at: https://www.lngindustry.com/floating-lng/16052018/revamp-gives-a-compressor-new-life/
You might also like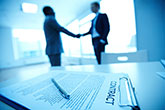 OMV has announced the signing of a long-term sale and purchase agreement with Cheniere Energy, Inc., covering the supply of up to 850 000 tpy of LNG beginning in late 2029.