---
An offshore LNG terminal is being jointly developed by CLP Power Hong Kong Limited and The Hongkong Electric Co., Ltd (HK Electric) to support Hong Kong's energy transition. A FSRU vessel, which will be used to receive, store, and regasify LNG, arrived in Hong Kong 13 April 2023 and is staying at the South Cheung Chau Anchorage. When checks and port clearance procedures are completed, the FSRU vessel will sail to the offshore LNG terminal east of the Soko Islands next week for the final commissioning of the project.
The offshore LNG terminal, constructed by CLP Power and HK Electric, is the first of its kind in Hong Kong and will be operated by the Hong Kong LNG Terminal Limited, a joint venture between the two power companies. Construction of a marine jetty and two subsea gas pipelines of the terminal has been completed. Commissioning of equipment is under way and the terminal is scheduled for operation in mid-2023.
The FSRU vessel, which will be named Bauhinia Spirit, is the world's largest with an overall length of 345 m and a storage capacity of 263 000 m3 of LNG. It will be moored at the jetty of the offshore LNG terminal and be used to receive, store, and regasify LNG.
When it goes into operation, the LNG terminal will further improve the stability of Hong Kong's natural gas supply by diversifying supply sources, allowing Hong Kong to procure natural gas at competitive prices from the global market.
Read the article online at: https://www.lngindustry.com/floating-lng/14042023/clp-power-and-hk-electric-to-develop-offshore-lng-terminal/
You might also like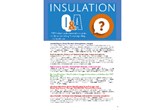 LNG Industry asked several companies to discuss some key factors regarding LNG insulation in our recent November 2023 issue of the magazine.