---
Royal Dutch Shell plc has published a report outlining how its strategy should enable it to thrive as the world transitions to lower-carbon energy.
The Shell Energy Transition Report describes its understanding of the transition and what it means for the company. It also explains how Shell has designed its strategy not only to be a world-class investment case, and to sustain its societal licence to operate, but also to manage climate change-related risks and maximise opportunities through the transition.
The report provides examples of how Shell is already active in many of the growth areas that will drive its continued success and resilience. Shell CEO Ben van Beurden says: "Understanding what climate change means for our company is one of the biggest strategic questions on my mind today. In answering that question, we are determined to work with society and our customers. We will help and inform and encourage progress towards the aims of the Paris Agreement. And we intend to continue to provide strong returns for shareholders well into the future."
The report contains Shell's principal response to the recommendations of the Financial Stability Board's Task Force on Climate-related Financial Disclosures and demonstrates the company's near- and mid-term financial and portfolio resilience, even against its recently-published and most rapid energy transition scenario, known as Sky. It also explains how Shell's capacity to adapt to the transition should allow it to thrive in the longer term by supplying the types of energy customers will need over the coming decades. For Shell, this means that the company will still sell the oil and gas that society needs, while preparing its portfolio to move into lower-carbon energy, when this makes commercial sense.
Shell's strategy, global portfolio and strong financial framework provide the ability to thrive through potential changes in the energy system to 2030. Every year the company assesses its portfolio under different scenarios, including prolonged low oil prices. In addition, Shell ranks the break-even prices of its assets in the Upstream and Integrated Gas businesses to assess their resilience against low oil and gas prices. These assessments indicate a low risk of stranded assets in the current portfolio. As of 31 December 2017, Shell estimates that around 80% of its current proved oil and gas reserves will be produced by 2030, and only 20% after that time.
In the medium term Shell will grow its business in areas it expects to be important in the energy transition, while reducing costs and improving its CO2-intensity performance. The company is expanding in the power market as it expects the energy system to increasingly electrify, and it is adjusting its businesses to meet changing demand in different countries. This includes investments in areas such as wind generation in the Netherlands, supplying power to retail customers in the UK and offering hydrogen refuelling and electric-car charging.
Longer term there is great uncertainty in how the energy transition will unfold, but Shell believes its strategic flexibility will allow it to adapt in step with society. Shell has previously announced its ambition to reduce the Net Carbon Footprint of the energy products the company sells by around half by the middle of the century in alignment with society as it moves towards implementing the Paris goals. Critically, this plan covers the full energy life cycle of the company's products, making it unique in the energy industry. It includes not only emissions from the production of energy products, but also those from the consumption of Shell's products by its customers, where around 85% of the emissions associated with the company's energy products occur. Progress will be reviewed every five years to ensure it is in-step with society's progress towards the Paris goal of limiting global warming.
Read the article online at: https://www.lngindustry.com/floating-lng/12042018/shell-publishes-new-report-on-strategy-for-energy-transition/
You might also like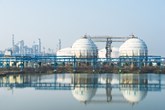 Accurate flow rate measurement during LNG liquefaction is essential. But how do you know if your flow meter can handle potential pressure drops, temperature changes, and the extreme conditions of the cryogenic process? Download Panametrics' new case study to learn how its flow meters can deliver extremely accurate LNG flow measurements.