---
Black & Veatch, a company specialising in LNG infrastructure solutions – in collaboration with Samsung Heavy Industries (SHI) of South Korea – announced it has been awarded a front-end engineering design (FEED) contract for the Ksi Lisims LNG nearshore floating production facility in northwest Canada.
The Ksi Lisims LNG project represents the next generation of LNG export design, re-inventing the industry for environmentally sensitive and greenhouse-gas constrained development situations.
Developed jointly by Western LNG, the Nisga'a Nation and Rockies LNG, the project will be one of the most significant Indigenous-led infrastructure projects in Canadian history. Ksi Lisims (pronounced "s'lisims") will be hosted by the Nisga'a Nation on their wholly-owned treaty land.
The project will use a floating LNG design that improves the project economics, minimises land impacts, and reduces construction-related risk. With commercial operations anticipated to begin in 2028, Ksi Lisims LNG will be designed to produce up to 12 million tpy of LNG for export to overseas markets.
Once completed, Ksi Lisims LNG will have among the world's lowest unit carbon emissions rates of any large-scale LNG export projects globally, providing global energy markets with low-carbon, reliable LNG that will help meet growing energy needs and reduce the need for base-load coal plant construction. Through connection with British Columbia's renewable hydroelectric grid and use of innovative design features, the project's greenhouse gas emissions will be 90% lower than conventional LNG facilities. Combined with a credible offset management plan, the project expects to be net zero by 2030.
"The Ksi Lisims LNG project team is delighted to be working with the world's pre-eminent experts in floating LNG engineering and design," said Davis Thames, president and CEO of Western LNG. "As global leaders in floating LNG engineering and construction, we understand that Black & Veatch and Samsung Heavy Industries undertake extensive analysis and carefully choose each project they work with. This agreement demonstrates their confidence in the fundamentals of our project and our prospects for success. We couldn't be more pleased to be working with them both."
"We are excited and look forward to further developing our relationship with the Ksi Lisims LNG owners team," added Javid Talib, Vice President and Managing Director in Black & Veatch's energy resources industries business. "We see this FEED award as an important step as we move towards working together on the engineering and construction of this world-class project."
Eva Clayton, President of the Nisga'a Lisims government, said the Ksi Lisims LNG project "will be the heartbeat of our Nation's economy. It's our best chance to build prosperity and a positive future for our people. After nearly ten years of planning work, we're thrilled to see the project advance into FEED."
"The opportunity to work on this game-changing LNG facility is attracting the best and brightest team in the LNG field," added Charlotte Raggett, president and CEO of Rockies LNG. "Canada is stepping up to offer the world's most reliable, low-risk and low-emission natural gas. We're happy to have Black & Veatch and SHI join us in getting this important clean energy resource to the markets that need it most."
Read the article online at: https://www.lngindustry.com/floating-lng/11072023/black-veatch-chosen-for-feed-work-on-proposed-ksi-lisims-flng-project-in-canada/
You might also like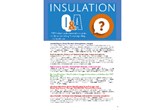 LNG Industry asked several companies to discuss some key factors regarding LNG insulation in our recent November 2023 issue of the magazine.