---
Reuters are reporting that a new race to build multi-billion dollar LNG plants is gaining momentum after a long hiatus in investments as energy giants sense a widening supply gap within five years.
Spending on new, complex facilities dried up following the collapse in energy prices in 2014.
Appetite was further dampened by fears that a plethora of LNG plants built since the late 2000s would lead to a large supply glut until early in the next decade.
But sentiment has radically changed over the past year. Buoyed by rising oil prices and exceptionally strong demand from rapidly growing economies such as China and India, executives are increasingly confident conditions are once again ripe for new projects.
Qatar, the world's largest LNG producer, is preparing to expand its facilities by around one third to produce 100 – 108 million tpy by 2023 – 2024.
"The glut that people see I don't see ... If you just count on being pessimistic about the market, and don't build expansions, you will never catch that upside when the market is up," Saad al-Kaabi, the head of Qatar Petroleum, said.
The state-owned company expects long-standing partners Exxon Mobil, Royal Dutch Shell, Total and ConocoPhillips to help build and fund the new expansion phases as well as possibly new entrants, he said.
A major change in the outlook happened after China strongly boosted imports of LNG in recent years to reduce coal burn in its fight against pollution.
"The supply-demand balance definitely looks more favorable towards producers these days," said Philippe Sauquet, the head of gas at France's Total, the world's second largest LNG trader after Shell.
"China will continue to make the real difference in demand. I don't see them slowing down. They are shifting attention to building more and more infrastructure," Sauquet told Reuters.
The LNG market will require over 200 million tpy of new supply through to 2030, or roughly 25 – 30 million tpy in new capacity additions to 2025, according to Bernstein.
"We believe 60 million tpy needs to be sanctioned by 2020 and a further 100+ million tpy between 2020 – 2025 to ensure markets are adequately supplied," Bernstein said.
Liquefaction capacity additions are expected to fall sharply by the end of 2019 as newly commissioned plants reach their maximum capacity, according to Bernstein.
The main source of growth is expected to come from the United States, where supplies rose sharply and prices plummeted with the expansion of shale drilling.
Investors were highly critical of oil and gas companies earlier this decade as costs ballooned for many LNG projects under development such as Chevron's US$54 billion Gorgon project in western Australia, the most expensive in history, or Shell's US$14 billion Prelude LNG, the world's largest floating structure.
But with services costs still languishing in the wake of the 2014 slump and new technologies helping to simplify and improve designs, new projects are able to compete for capital.
Executives also say they have learnt from past mistakes.
The renewed confidence in the outlook for LNG and the recovery in oil prices that has led to a surge in revenue for energy companies, boards are getting ready to invest.
Exxon last year bought for US$2.8 billion a 25% stake in Eni's Rovuma development in Mozambique, which holds a massive estimated resource of 85 trillion ft3.
Speaking to Reuters, Eni CEO Claudio Descalzi said partners in the project, Exxon, Korea Gas Corp and China National Petroleum Corporation, will take a final investment decision next year so it could be operational by 2023-2024. The project will produce 15 million tpy of LNG, or 5% of global output.
Shell, which acquired BG Group in 2016 for US$54 billion to boost its gas output, is nearing a decision on the development of LNG Canada. It would be its first new LNG project since 2011.
"We expect a supply gap in the gas market in the early 2020s ... LNG Canada looks very promising," Shell Chief Financial Officer Jessica Uhl said last month.
Shell Chief Executive Officer Ben van Beurden said the Anglo-Dutch company expects the partners in the Nigeria LNG processing plant, Nigerian National Petroleum Corporation, Shell, Total and Eni, to consider its expansion by the end of the year to increase its capacity to 30 million tpy.
Shell's British rival BP and its partner Kosmos Energy will decide on the development of the Tortue field off the coast of Senegal and Mauritania by next year.
Global demand for LNG surged by 12% in 2017, far exceeding forecasts, and is expected to grow by up to 10% in 2018, according to analysts at Bernstein.
Oil and gas companies have heralded LNG as the fossil fuel of the future thanks to its relatively low carbon emissions.
Natural gas, the least polluting fossil fuel, is a key growth area for energy companies which see it playing a pivotal role in the world's efforts to reduce greenhouse gas emissions to fight global warming.
For companies like Shell and BP, the share of gas production has surpassed that of oil in recent years.
Read the article online at: https://www.lngindustry.com/floating-lng/07082018/new-wave-of-mega-lng-projects-is-approaching/
You might also like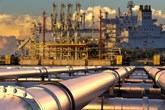 At every stage of the LNG process – from pretreatment to transportation – accurate and reliable measurements are essential for optimising production, maintaining safety, and ensuring profitability.