Small Scale LNG - 07 October 2016
Thun Tankers intends to offer sister-ships where the use of LNG as a fuel is a possibility.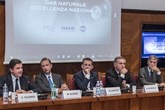 Snam, Iveco and Fiat Chrysler Automobiles have signed a memorandum of understanding to foster the development of natural gas as a fuel for road vehicles.
Gas LNG Europe has held a meeting at Reganosa's facilities in Mugardos, Spain, to analyse the future of the gas sector.