Small Scale LNG - 07 September 2017
Gazprom has also clarified certain provisions in the memorandum of understanding it signed with the JBIC last year.
Carnival Corp. & plc has announced that it has commenced construction of the world's first fully LNG-powered cruise ship.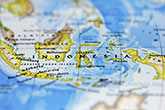 Keppel O&M has entered into a Heads of Agreement with Pavilion Energy and Indonesia state-owned PT Perusahaan Listrik Negara.