---
Golar LNG has released interim results for the period ended 31 March 2019.
Highlights
Gross contract earnings backlog increased from US$7.3 billion to US$10.3 billion.
Golar's total operating revenues decreased from US$181.9 million in 4Q18 to US$114.3 million in 1Q19.
Adjusted EBITDA decreased from US$121.2 million in 4Q18 to US$62.9 million in 1Q19.
After recognition of US$28.4 million of unrealised Brent oil linked mark-to-market derivative instrument gains and a US$34.3 million impairment charge in relation to the Golar Viking, Golar reported operating income of US$28.9 million for 1Q19.
Golar and BP executed contracts for the provision of an FLNG vessel to service the Greater Tortue/Ahmeyim project offshore Mauritania and Senegal for 20 years.
Golar received a Final Notice to Proceed with the conversion, sale and subsequent operation of Golar Viking as an FSRU in Croatia. The sale is expected to generate net positive cash of approximately US$40 million in 2020.
The shipping fleet recorded Time Charter Equivalent (TCE) earnings of US$39 300 per day (US$39 100 for spot TFDE vessels).
FSRU Golar Nanook loaded first Sergipe commissioning cargo from FLNG Hilli Episeyo.
Net of financing expenses, equity in net losses of affiliates, taxes and net income attributable to non-controlling interests, Golar reported a 1Q19 net loss of US$41.7 million.
Subsequent Events
Gimi MS Corp. received a firm US$700 million underwritten financing commitment for the FLNG Gimi.
As intended, First FLNG Holdings Pte. Ltd, an indirect wholly owned subsidiary of Keppel Corp. Ltd. held through Keppel Capital Holdings Pte Ltd., subscribed to 30% of the issued ordinary share capital of Gimi MS.
Gimi MS issued Keppel Shipyard with a Final Notice to Proceed with FLNG Gimi conversion works.
A two year extension to the Golar Tundra sale and leaseback facility was agreed and a five year restated and amended facility in respect of the Golar Arctic was credit approved.
Dividend of US$0.15 cents per share declared for quarter.
At a recent meeting in Bermuda, the Board decided to proceed with a spin-off of the company's Trifuel Diesel Electric (TFDE) LNG carrier business, subject to satisfactory market conditions, and to focus the company's future activities primarily around FLNG and downstream assets. This will allow LNG shipping investors more direct exposure to the LNG shipping market and reposition Golar's core business toward LNG infrastructure on long-term contracts.
Read the article online at: https://www.lngindustry.com/regasification/22052019/golar-lng-releases-its-latest-interim-results/
You might also like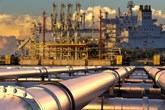 At every stage of the LNG process – from pretreatment to transportation – accurate and reliable measurements are essential for optimising production, maintaining safety, and ensuring profitability.