LNG Shipping - 14 December 2016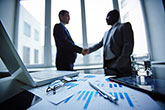 NYK and KEPCO have agreed to partner on the joint ownership of a new LNG carrier.
Gondan Shipyard has announced that the third dual-fuel tug ever built in Europe has been successfully launched.
Bomin Linde has announced that, at the end of September 2016, it carried out the initial LNG bunkering operation for the Searoad Mersey II RoRo ferry.