LNG Shipping - 07 January 2019
Gujarat State Petroleum Corp has opened a tender to buy a cargo of LNG.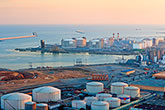 The LNG feeder and bunker vessel 'Kairos' has commenced its first reload operation in Klaipeda.
Germany's Economy Minister has announced that Europe is ready to begin construction of LNG infrastructure to facilitate the importation of US LNG.