---
The CEO of Monkey Island LNG, Greg Michaels, wrapped up a year of speaking engagements aimed at encouraging young entrepreneurs with a final visit to his alma mater, the University of Southern California (USC). Michaels was invited by USC's Marshall School of Business Adjunct Professor, Christopher J. Harrer MBA, MBSA, of the Lloyd Greif Centre for Entrepreneurial Studies and USC's Senior Director of Alumni Relations, Molina Guillermina, as the final speaker of the Distinguished Speaker series on 15 November. Michaels spoke to undergraduates of the Lloyd Greif Centre for Entrepreneurial Studies program at the USC Marshall School of Business.
The response from the USC undergrads was positive. Professor Harrer commented, "Greg spoke to our entrepreneur students for over an hour. We had an opportunity to debrief after his visit and he made a big impact on the entire class. Greg shared his journey in a very effective way and left many 'nuggets' for them to learn from. His passion for making a difference with students really shows." As a former student of USC's entrepreneur program, the opportunity to speak to the students was also impactful for Michaels. The successful entrepreneur and CEO stated, "It was an honour to speak to the students. They were interested in hearing about my journey as an entrepreneur and had very insightful questions. The class was very sharp and engaged during my visit. Clearly, there is a lot of talent in that group, and Professor Harrer is doing an amazing job with them. I hope this experience will help them on their journeys. These future entrepreneurs will definitely make USC proud."
Michaels is a firm believer in the importance for CEOs and leaders of successful companies taking the time to give back to their communities by providing guidance, inspiration, and mentoring to the nation's next generation of entrepreneurs and leaders. The Monkey Island LNG CEO makes a point to speak to both college and high school students as often as he can. Earlier this year in March, Michaels and the company's President of Engineering & Construction, Scott Ray, participated in a Mentor panel discussion at Spring Woods High School in Houston, TX, near Michaels' Monkey Island LNG corporate office. The panelists came from humble, even broken, backgrounds and have risen from challenging odds to achieve success. They spoke to a group of 550 seniors and used their struggles to relate to and encourage students to pursue their dreams and never give up. Scott Ray said, "Mentoring at the high school level can be meaningful and highly impactful when speaking to a broad group like an entire senior class. Mentoring has been proven to lower dropout indicators and increase higher achievement. When mentoring, I try to create one-on-one supportive relationships with students and teachers to encourage them and let them know I care."
A successful lifelong entrepreneur, Greg Michaels has bought, sold, and started over two dozen companies in the areas of Energy, Telecommunications, and Real Estate Development. He is the founder and CEO of a 24-year Southern California utility company, Southern California Telephone Co., and in 2014 he founded Monkey Island LNG, a company designed to help fulfil the global demand for clean burning energy via LNG. The company is developing a US$6.7 billion US LNG export facility in Cameron Parish, Louisiana, which will support over twenty-four thousand jobs across the US and bring billions of dollars back to the US economy once operational. Michaels' leadership and vision have led to many award nominations, both domestically and internationally, and he speaks on LNG issues around the world. In addition to business success, he is a 2-time national tennis champion and enjoys giving back to the communities he works and lives in.
Read the article online at: https://www.lngindustry.com/liquid-natural-gas/30112017/monkey-island-lng-ceo-encourages-students-and-young-entrepreneurs/
You might also like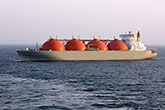 Following an earlier newbuild programme in June 2022 for four new vessels, the company has now been awarded the contract to supply reliquefaction systems for a further eight ships.