---
MAN Diesel & Turbo has announced that it will build a new test-engine facility in collaboration with its two-stroke licensee, HHI-EMD, the engine and machinery division of Hyundai Heavy Industries. The new venture aims to expand MAN Diesel & Turbo's R&D test capacity, in the process strengthening its development of dual-fuel gas engines.
Lars Juliussen, Senior Manager and Head of MAN Diesel & Turbo's Diesel Research Centre in Copenhagen, said: "The testing of our engine technology is an essential part of our continued pursuit of delivering the marine segment's best two-stroke engines. This new test set-up will enable us to further advance our pursuit of highly reliable and environmentally-friendly technology with a strong focus on cost-competitive gas engines and related equipment."
The test and gas facility will be located in Ulsan, Korea at HHI-EMD's works and is scheduled to begin operation in early 2019. It will be the first test engine with online remote control, supporting MAN's digitisation strategy. In this respect, the test engine will also be connected to MAN Diesel & Turbos research and control centre in Copenhagen, enabling the company's research engineers to closely follow and enhance the testing of future engine technologies.
Juliussen added: "This marks a new, exciting chapter in MAN Diesel & Turbo's long history and we are very happy to work with Hyundai, our long-time licensee."
ME-GI Pump Vapouriser Unit
The new test engine set-up will also feature MAN Diesel & Turbo's own ME-GI Pump Vapouriser Unit (ME-GI PVU), an innovative cost-efficient high-pressure LNG supply unit that makes FGSS installations significantly more compact – reducing both cost and weight.
The ME-GI PVU is designed to pressurise and vaporise the LNG fuel to the exact pressure and temperature required by ME-GI engines. Gas pressure is controlled via control of hydraulic oil flow to the pump, ensuring a very quick and precise control of the LNG supply to the engine. Separate control of each pump head provides full redundancy. Furthermore, the ME-GI PVU is governed by a control system – including supervision and safety functions – that feature a high degree of integration with the ME-GI engine control system.
The ME-GI PVU was recently launched by MAN PrimeServ, Copenhagen and is available in five different sizes covering MAN Diesel and Turbo's two-stroke ME-GI engine programme.
Read the article online at: https://www.lngindustry.com/liquid-natural-gas/21032018/man-diesel-and-turbo-and-hyundai-agree-joint-test-venture/
You might also like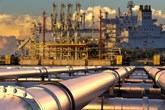 At every stage of the LNG process – from pretreatment to transportation – accurate and reliable measurements are essential for optimising production, maintaining safety, and ensuring profitability.