LNG - 15 April 2021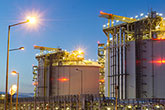 The Interim Offshore Terminal Project will be located in the First Gen Clean Energy Complex in Batangas City, the Philippines.
The first of three LNG battery hybrid PCTCs commissioned by United European Car Carriers has been launched.
Tim Born will become the Vice President of Oceania and South East Asia Region for Nikkiso Cryogenic Industries' Clean Energy & Industrial Gases Group.