LNG - 09 September 2021
RusKhimAlyans, Linde, and Renaissance Heavy Industries have signed an EPC contract for an LNG plant.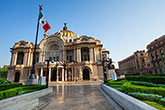 According to GlobalData, the US and Canada could see a 12% growth in natural gas production, while Mexico could suffer a 28% decline in domestic natural gas production from 2021 to 2025.
Gavin Thompson, Wood Mackenzie Asia Pacific Vice Chair, spoke to Dan Toleman from the company's Global Gas & LNG team about the role of CCS in ensuring the long-term viability of LNG projects across Asia Pacific.