LNG - 06 April 2020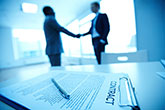 Nauticor and Novatek are intending to cooperate on the development of small scale LNG supply infrastructure in the Baltic Sea.
AGA has completed the 2000th bunkering of Viking Line's 'Viking Grace' LNG-fuelled cruise ferry.
Teekay LNG Partners has secured new LNG charters for two of its LNG carriers and refinanced its US$225 million unsecured credit facility.