LNG - 04 October 2021
GTT will design the tank for a new LNG carrier that is to be delivered in 1H24.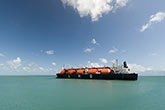 The LNG carriers will cater for the future LNG fleet requirements of the North Field expansion projects.
Stena Power & LNG Solutions has completed successful model testing of its LNG receiving terminal technology.