---
Teekay GP LLC., the general partner of Teekay LNG Partners L.P., has reported the Partnership's results for the Q2 ended 30 June 2018.
Highlights
GAAP net income attributable to the partners and preferred unitholders of US$2.7 million (impacted by non-cash items) and GAAP net loss per common unit of US$0.05 for the three months ended 30 June 2018.
Adjusted net income attributable to the partners and preferred unitholders of US$13.5 million and adjusted net income per common unit of US$0.09 for the three months ended 30 June 2018.
Generated total cash flow from vessel operations of US$115.0 million in Q2 of 2018.
Generated distributable cash flow of US$31.1 million, or US$0.39 per common unit, in Q2 of 2018.
Since the beginning of 2018, the Partnership has taken delivery of six LNG carrier newbuildings, all on long-term charters.
CEO commentary
"As expected, we experienced another quarter of increased earnings and cash flow from our LNG carriers," commented Mark Kremin, President and Chief Executive Officer of Teekay Gas Group Ltd. "We have taken delivery of nine LNG carriers over the past nine months, including the Myrina and the Megara in early-May and mid-July 2018, respectively, both of which are on long-term, fixed-rate charters to Shell, and we are anticipating the delivery of the Bahrain Spirit FSU later this month." Kremin continued, "The Yamal LNG consortium has asked us to deliver our second ARC7 LNG carrier earlier than the scheduled November 2018 date, and we are making arrangements to meet this request in order to service the project's second LNG train, which is expected to come online in September 2018. Looking ahead, we have nine LNG newbuilding carriers and the Bahrain LNG terminal project still to deliver over the next 18 months, which we expect will help drive further cash flow growth and the delevering of our balance sheet."
Kremin continued, "Unfortunately, the results from the seven Multi-gas carriers we took back in late-2017 due to non-payment of charter-hire are continuing to underperform and have continued to significantly impact our quarterly results. We are evaluating pooling arrangements and potentially other adjacent transportation markets for employing these vessels; however, we are not anticipating a significant turnaround relating to these vessels over the near-term. As a result, we have taken an accounting impairment on four of these vessels during the second quarter of 2018."
Kremin added, "We have now completed all of our 2018 secured debt refinancings and expect to commence the process to refinance our 364-day unsecured revolver shortly, which has been refinanced three times previously. In addition, we are making good progress on our 2019 financing and refinancings. Looking ahead, we believe Teekay LNG is well-positioned to take advantage of the strong LNG demand fundamentals we see developing over the medium-term."
Read the article online at: https://www.lngindustry.com/liquid-natural-gas/02082018/teekay-lng-partners-report-q2-2018-results/
You might also like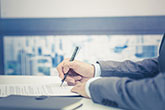 In its efforts to further boost natural gas utilisation in the country and enhance Nigeria's gas revenue, NNPC Ltd has signed two major agreements to deliver LNG to the domestic gas market and the international LNG market.