Liquefaction - 21 October 2016
Black & Veatch's PRICO technology has become the world's first FLNG technology to achieve production on a floating facility.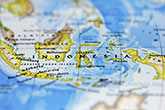 According to Reuters, within the next one or two weeks, Indonesia is expected to decide on a plan by Inpex Corp. to increase the proposed output from the Masela natural gas field.
Santos has announced a 31% increase in its 3Q16 sales volumes, as its LNG sales volumes more than double due to the ramp up at GLNG.