Liquefaction - 15 October 2019
Aditya Saraswat and Carlos Torres-Diaz, Rystad Energy, Norway, explain how the Middle East's gas production could overtake Russia this year.
Venture Global Partners is set to lead the world in newbuild LNG liquefaction capacity additions by 2023, says GlobalData.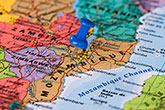 Mozambique LNG set to be a game-changer for its East African nation of 31 million people.