---
Buru Energy has announced that as part of its continuing efforts to identify the most value accretive development of its potentially large scale Rafael conventional gas and condensate discovery in the Canning Basin, it has completed a pre-feasibility study (PFS) for a Kimberley-based compact floating LNG (FLNG) plant solution with Transborders Energy.
The PFS demonstrates a Kimberley-based FLNG facility is a technically, commercially, and economically feasible option to commercialise the 100% Buru Energy-owned Rafael gas and condensate resource based on independently assessed potential recoverable volumes of over 1 trillion ft3 of gas and over 20 million bbl of condensate.
The study confirmed that a compact, regionally located ~1.6 million tpy FLNG facility, in conjunction with onshore condensate and LPG processing, is an economically robust path for development of the Rafael 3C resource and could provide a relatively lower cost and shorter time frame to development than alternative gas export options.
Buru Energy will continue to work with Transborders Energy and its multi-project collaboration partners, including Kyushu Electric Power, Mitsui O.S.K. Lines, Technip Energies, SBM Offshore and Add Energy (part of ABL Group ASA), to progress commercial discussions and to refine the cost and schedule parameters for the next phase of project definition.
In conjunction with the Transborders study, Buru Energy is exploring a number of other pathways for the early commercialisation of a full range of Rafael resource sizes, including local LNG production for Kimberley energy requirements, and local value adding gas conversion to products including methanol, ammonia and urea. This work is also being driven by collaborative studies with potential partners and contractors, with the Transborders study being the first to be completed under this model. Buru Energy has also identified the potential for these developments to benefit from carbon capture and storage (CCS) solutions being developed by Buru Energy's Geovault subsidiary.
Conducting these studies in parallel with the ongoing appraisal of the Rafael resource will ensure a faster transition to FEED following appraisal drilling in 2024, and a reduced delivery timeframe to first product sales from this potentially regionally significant project.
The Rafael appraisal programme is ongoing with mapping of reprocessed 2D seismic data providing further insights into potential resource volumes, and preparations for the planned 3D seismic survey are on track for commencement of acquisition early in the second half of this year. The 3D seismic will provide guidance for the appraisal drilling programme targeted for 2024 with well planning and identification of long lead items being advanced.
Buru's CEO, Thomas Nador, said: "Following on from Buru's acquisition of Origin Energy's Canning Basin joint venture interests announced less than two months ago that gave it 100% ownership of the regionally significant Rafael resource, the completion of this study is a significant step forward in the commercialisation pathway for Rafael.
"The value of this study extends beyond affirming technical and economic feasibility for an FLNG option for the 3C volumes of the Rafael resource – it is a potential solution and partnership model that integrates the full LNG value chain via highly credible energy industry participants from LNG buyers, shippers, project delivery specialists and investors all working together to bring gas resource developments like Rafael to reality. In combination with onshore condensate and LPG processing, the development concept is compelling, and work will continue to further refine the concept and progress commercial discussions.
"In addition to the work on FLNG, Buru is also examining and screening other development options that cater for various Rafael resource volume scenarios to ensure the Company can move expeditiously on a selected concept once appraisal outcomes are confirmed.
"These include local Kimberley based power generation, smaller scale LNG production, downstream petrochemical processing projects and the potential to process Rafael gas for LNG export via the North West Shelf facilities. This work will ensure that there is a commercially attractive monetisation pathway for Rafael gas and condensate across the full range of contingent resource volumes.
"In parallel with this commercialisation study work, Buru is on track to acquire the Rafael 3D seismic survey during this year's operating season and is targeting appraisal drilling in 2024 to fully inform the development concept selection for Rafael."
Transborders Director, Daein Cha, added: "We are pleased to continue collaborating with Buru for deploying our FLNG Solution with the aim to accelerate the commercialisation of Buru's Rafael related assets. With the governments of Australia and its key trading partners of Japan and South Korea reaffirming the critical importance of enhancing energy security via cooperation through secure and reliable LNG trade and investment, this development could materially contribute to this important cause."
Next steps
As part of the next phase of work on this commercialisation option for the Rafael resource, Buru will work with Transborders and its multi-project collaboration partners Kyushu Electric Power, Mitsui O.S.K. Lines, Technip Energies, SBM Offshore and Add Energy (part of ABL Group ASA), to refine the objectives, work scope and cost and schedule parameters associated with the next phase of pre-FEED definition.
In parallel, Buru will continue to progress pre-feasibility level engineering for various other development options that cater for various Rafael resource volume scenarios to ensure the Company can move expeditiously on a selected concept once appraisal outcomes are confirmed.
Preparations to acquire the 3D seismic survey over the Rafael gas and condensate accumulation are well advanced and on track for 2H23, with planning for appraisal drilling also advancing, targeting drilling during the operating season in 2024.
Read the article online at: https://www.lngindustry.com/floating-lng/21042023/buru-energy-provides-rafael-gas-and-condensate-commercialisation-update/
You might also like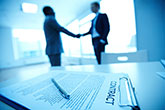 OMV has announced the signing of a long-term sale and purchase agreement with Cheniere Energy, Inc., covering the supply of up to 850 000 tpy of LNG beginning in late 2029.