Small Scale LNG - 10 July 2017
Gondan Shipbuilders has announced that it has delivered PAX – the second dual-fuel tug ever built in Europe.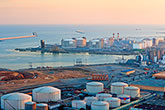 One of the main obstacles to the accelerated uptake of LNG is the uncertainty regarding future market volumes for LNG.
Bakker Sliedrecht has won a contract for the engineering, delivery and commissioning of the electrical power plant and auxiliary electrical installations for the LNG-fuelled cutter suction dredger, Spartacus.